Tess Holliday and Penningtons Are Reminding the World That Plus-Size Women #WontCompromise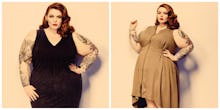 Plus-size women are often told what they should and should not wear. Worse, most plus-size sections are usually "upstairs hidden by the tire section" as Melissa McCarthy puts it. 
That's about to change, thanks to Canadian-based retailer Penningtons, which collaborated with model Tess Holliday for a new plus-size line, mblm by Tess Holliday, released on Sunday.
Read More: Tess Holliday Sums Up the Issue With Plus-Size Clothing — and How She's Fixing It
"We really felt that Tess embodied what the mblm brand stands for: authenticity, empowerment and fearless fashion," Ria Kragaris, Penningtons' content and communications manager said via email. "The line is all about edgy designs paired with versatile pieces that give the collection a distinct style and attitude that reflects Tess Holliday's unapologetic advocacy of self-acceptance." She also embodies one of the company's new mantras: #IWontCompromise. 
Holliday's new collaboration is just one piece of Penningtons #IWontCompromise campaign, launched in December 2015 with a series of YouTube videos.
"This movement is about body diversity, self-acceptance and breaking stereotypes, without having to compromise," Kragaris said. "We have always prided ourselves in being a support and partner for our customers, providing her with quality collections and on-trend styles in a time when these options did not exist for her."
The #IWontCompromise campaign aims to show the strength and resilience of women and break down commonly perpetuated stereotypes about plus-size women. The idea is to showcase women not seeking validation from others, but rather asserting a true DGAF attitude about others' put-downs.
The below video from January features a yogi demonstrating that plus-size women can do a downward dog as well as anyone. And yes, they can lift their own body weight.
They did it again with a denim ad in February, featuring their jean line, d/C jeans, made for curvy girls.
The "Sorry Not Sorry" campaign video, also launched in February, features three plus-size divas getting down in their d/C denim. 
Penningtons is not the first brand to create fashionable plus-size clothing, but is definitely one of the few, especially when it comes to offering women a wide variety of styles with their collection. More importantly, #IWontCompromise encourages women to abandon their fear of judgment and demand respect and understanding.
People may stare. And maybe that's a good thing.