Marks and Spencer's Burkini Swimwear Is Celebrated... But Not By Everyone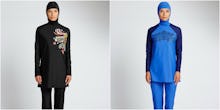 Burkini bathing suits sound like a costume straight out of Sex and the City 2, but thanks to U.K.-based retailers like Marks and Spencer, they are indeed real, though the reaction has been pretty divided (the same can't be said of SATC2, which was a hot mess, TBH).
Marks and Spencer has been selling versions of these "burkinis" — or modest bathing suits covering the entire body besides the face, hands and feet — in its international stores for years, according to an official statement from the company. 
But with the increasing Muslim population in England, the brand saw an opportunity for the burkinis to finally make their way onto British soil, and began rolling out the suits over the summer. Finally, just weeks ago, the suits made their way online.
The backlash against them, however, is new. It began after the Daily Mail printed the below article on Saturday, dubbing burkinis the "ultimate proof Britain is truly multicultural."
While some were quick to praise the swimwear...
...others were less than impressed, leaving scathing comments underneath the Daily Mail's article and on Twitter.
Muslim fashion has received a great deal of attention recently thanks to a concentrated effort from global brands to reflect the beauty of Arab culture. In July 2015, Uniqlo partnered with designer Hana Tajima to create a fashion-forward collection, and in January Dolce and Gabbana released a collection full of hijabs and abayas. 
In February, the Instagram account Hijarbie went viral for its take on Muslim fashion. 
As Mic previously reported, the Islamic fashion industry is booming, expected to be worth $327 billion by 2020. While it is likely there are more burkinis available in highly populated Islamic regions, for many having options like these available online is the only way they'll be able to purchase such items. And if numbers like the above prove anything, the demand is high.
Bottom line: Let's not forget, as user @becksybaby expertly pointed out, no one is being forced to wear these. 
March 22, 2016, 8:44 a.m. Eastern: This story has been updated.