In One Quote, Khloé Kardashian Summarizes the Nightmare of Shopping as a Chubby Kid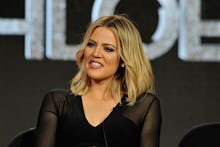 "We don't carry that size."
They're five words you never want to hear when shopping. Unfortunately, they're not only familiar from the classic Mean Girls scene; these are the words Khloé Kardashian was told at 10 years old.
"I'd be out shopping and ask them if they had a size 8," the youngest Kardashian revealed in a Q&A posted on her site promoting her upcoming series Revenge Body. "Their response would be, 'No, we don't carry that size.' It's about how they said it, too. I would rather they just say, 'We sold out of that size.' Now that I run a clothing store, I would never, ever say, 'We don't carry that size.'"
Read more: No, Khloé Kardashian, the Best Revenge Body Is One That Doesn't Give a Fuck
Her body image issues extended beyond shopping for clothes. In the same Q&A, Kardashian recounts making up stories to get out of having to wear her bathing suit at pool parties. "I wish they knew what it was doing to me," she said.
Despite being bigger than her friends, Kardashian never thought of herself as fat, but that changed after she was thrown into the spotlight when Keeping Up With the Kardashians premiered in 2007.
"Right before the show started, I thought I was in good shape, but I guess not good enough for Hollywood's eyes," she told People in October. "I didn't realize I was the 'fat' sister until I went on TV and the media started saying that about me. ... [In reality] I wasn't fat; I wasn't obese. But I would let society make me believe that I was."
Even after dropping 40 pounds and authoring the book Strong Looks Better Naked in 2015, Kardashian was still subject to ridicule. "We used to have Khloé," Amy Schumer joked during her opening monologue on Saturday Night Live in October. "Khloé was ours, right? Whenever there's a group of women, you identify with one of them, right? Khloé, she lost half her body weight. She lost a Kendall, and we have nothing." 
If Kardashian's struggle proves anything, it's the resilience of not letting your haters — including insensitive store clerks — drive your self-worth. After all, as Queen Bey tells us, the best revenge is your paper, something Kardashian's in no short supply of.