Penumbral Lunar Eclipse 2016: When and How to Watch Wednesday's Eclipse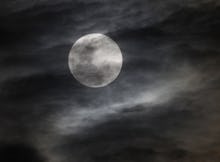 After a stunning solar eclipse earlier this month, the earth will get round two with a penumbral eclipse on Wednesday morning, according to the Washington Post. Starting at 2:39 a.m. Pacific Daylight Time, the eclipse will be visible to the central and western United States, Australia, Asia and the Pacific, technically reaching its height a little after sunrise at 7:48 a.m. Eastern. But for the United States, the eclipse will be most distinct when most are fast asleep at 4:47 a.m. Pacific Daylight Time, according to National Geographic, while folks in the East Coast will miss it entirely due to the sunrise. 
For the most part, the eclipse will cause the moon to be only slightly darker. However on Tuesday night, Jupiter will be very bright and will join a waxing moon for a picturesque celestial view.
Read more: NASA Is About to Light the Biggest Human-Made Space Fire Ever
The penumbral eclipse is when the moon moves through the outer shadow of Earth, so it's less pronounced than an umbral eclipse, or when the moon turns red because it's going through the dark part of Earth's shadow.
Penumbral eclipses are 35% of all eclipses, but are still difficult to see with even a telescope, according to USA Today. 
The next penumbral lunar eclipse will occur in September, but North America won't even notice.