Zayn Malik and His Beard Fell Victim to "Boy Band Beauty Standards"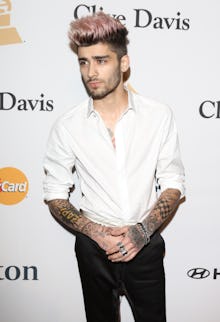 Zayn Malik fans may have reacted differently when the ex-boy band member left One Direction had they known the band was responsible for holding back Zayn's beard from emerging in all its natural glory. 
It's true: That scruff we have all come to know and love, the stubble that covers the "Pillowtalk" singer's face in all of girlfriend Gigi Hadid's Snapchat stories, was not so beloved by One Direction's top execs. (We're looking at you, Simon Cowell.)
Read More: Zayn Malik's "Pillowtalk" Has Already Done Something One Direction Never Could
In the new cover story for the April/May issue of Complex, Malik opened up about the boy band beauty regulations he had to follow while he was a member of the now on-hiatus 1D. 
"There were certain restrictions in terms of the way that we could come outside of that young teen boy look," he told the magazine. "[It was] mainly my beard, honestly. I wasn't allowed to keep it."
But, as Directioners have come to know, Malik isn't one to take direction (pun much intended).
"Eventually, when I got older, I rebelled ... and decided to keep it anyway," he said. "That was just because I looked older than the rest of them. That's one of the things that is now quite cool. I get to keep my beard."
Another grave injustice: Malik admitted that he wasn't allowed to dye his hair while he was in the band. 
Thankfully, Malik's addressed this grave oversight since departing the band in March 2015.
Both of these factors, combined with being part of a behemoth supergroup, led Malik to question who he really was. "I believe that success follows authenticity," he told Complex. "People see through fake shit. They don't want to see that; they want a real person."
Malik's reveal makes us question whether Justin Timberlake was forced to sport those signature curly locks or if the Backstreet Boys really wanted to wear those identical sweater vests and denim jackets. 
Probably.
h/t: Newsweek