Bridal Buddy Creates Undergarment Slip for Brides in Need of a Bathroom Break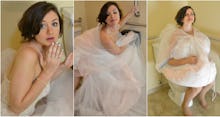 Walking down the aisle in a heavy, poofy tulle wedding gown, trying not to topple over can be scary. But the real nightmare? Lifting up the skirt to pee.
Enter the Bridal Buddy, an undergarment slip created in 2015 to help a bride pee on her big day without the help of a trusted bridesmaid. Scrunching your wedding dress up into a slip with armholes might sound odd — and okay, it is, but it's also quite genius.
Read more: ModCloth Launches Wedding Line for Untraditional Brides
"I came up with the idea when I worked in a bridal shop in about 2002 — the brides would always ask 'how am I supposed to go to the bathroom in this thing?'" Heather Stenlake, Bridal Buddy founder, said when reached for comment. The answers others would give was 'take it off, and put a sheet on the floor, or take your bridesmaids with you in the stall or squat and face the wall' resulting in pee all over the seat. Or worse, down your legs."
How does it work? As a promotional video explains, the slip goes under the gown and is used to bag the dress up (it even has armholes!) so that the bride can do her business with ease. 
Step 1: Pull the slip around your waist. 
Step 2: Ball your gown into the slip. 
Step 3: Put your arms in the conveniently placed arm holes. 
Step 4: Pull and Pee™ (and make this model's face while doing so).
"The best compliment I received so far was a mother who told me it was a 'God send' for her daughter who is to be married," said Stenlake. "She has Crohn's disease and panics about how she will go to the bathroom with other girls helping her hold up her gown. With the Bridal Buddy she can go by herself and feel comfortable on her own."
Is this a perfect invention? No, it makes you look like a marshmallow and a loofah combined. But it only costs $60, making it the cheapest expense you'll likely see on the big day — and it eases at least one aspect of the wedding day, so who knows, it might be worth it. 
Check out the whole thing in action:
March 23, 2016, 10:23 a.m. Eastern: This story has been updated.