Where Is Brussels? Why Belgium's Capital Has Become a Hotbed for Extremism and Terror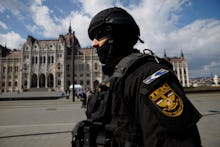 Terror ripped through the streets of Brussels on Tuesday morning, after the latest bombings in a series of internationally coordinated attacks by the Islamic State targeted the European metropolis' major transit centers, including the Zaventem international airport and the Maalbeek Metro station. 
According to experts, Belgium's transformation into a hotbed for radicalization and extremism was a process of several intermingling factors over time. "It doesn't surprise me, because radical and political Islam in Belgium is something that grew up through the years," Bilal Benyaich, a senior fellow at the Itinera Institute think-tank, told the Washington Post last year regarding the city's rise in radicalization.
Read more: #JeSuisBruxelles Trends in Wake of Brussels Bombings to Show Support for Victims of Attack
In order to understand what the problem is, one must go to the source. Brussels, the capital of Belgium, is known as one of Europe's international centers for diplomacy, culture and politics. However, the city's politically layered and multifaceted government, its prime location for immigration from Syria and the Middle East, its being sandwiched between France and Germany, as well as a lack of a relationship between ethnic neighborhoods and the police, lead to little to no information on the state of these neighborhoods. 
"In such a case it's very difficult to get feedback from the community," Bakker told Reuters. "That means while the neighbors may have seen something going on, they're not passing it to the police. Then it becomes very tough for intelligence agencies as only relying on them and not local police is not sufficient."
"Belgium is a federal state and that's always an advantage for terrorists," Edwin Bakker, a professor at the Center for Terrorism and Counterterrorism at the University of Leiden in the Netherlands, told Reuters last year. "Having several layers of government hampers the flow of information between investigators."
Reuters reported that it's easy for people in Brussels to get swept up in terrorist radicalization. Benyaich told the news agency that anybody can pick up a firearm in as little as half an hour with 500 to 1,000 euros. 
Suburbs like Molenbeek are one of the most notable zones for terror hotbeds forming within Brussels, where nearly 90,000 residents live in virtual segregation.
"There is a link to Molenbeek," Belgium's Prime Minister Charles Michel said after ISIS claimed responsibility for the Paris terror attacks, the Daily Beast reported. "We are focused on prevention but we need to act repressively, too."
Unfortunately, the city has a way to go. Just days before explosions shook major transit city centers, 26-year-old Paris terror suspect Salah Abdeslam, who authorities believe had been planning to explode himself at the Stade de France, was captured inside Brussels during a raid. It's still not entirely clear what the Belgian's involvement in last year's attacks was, or if the recent arrest sparked or was somehow coordinated with the attacks in Brussels. 
One thing is clear: Some Belgians are traveling to Syria in the midst of radicalization. In fact, teenagers in Brussels are telling their parents not to expect them home for dinner before traveling to Syria with friends in order to join the Islamic State in its global fight against western civilization, the BBC reported in December. In 2014, Belgian researcher Montasser Alde'emeh said there were roughly 500 Belgian jihadis fighting in Syria and Iraq, and about 70 were killed. Two years later, those numbers surely continue to rise, as countries around the world over continue to see terror find its way across their borders.