CoverGirl Collaboration With the Boss Ladies of 'Empire' Shows How Diversity Is Done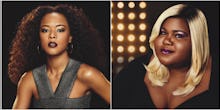 CoverGirl, the same beauty brand that earned praise for choosing Zendaya as its latest face in February, has announced a new collaboration with Fox's Empire for a limited-edition collection. 
The line of products, which will be revealed throughout the second half of the show's second season — premiering March 30 — features four of the hit series' leading ladies: Gabourey Sidibe (Becky), Grace Gealey (Anika), Serayah (Tiana) and Kaitlin Doubleday (Rhonda). 
"It's a dream come true!" Serayah told Vogue, admitting that landing the CoverGirl gig, along with her casting on the hit series, were all on her vision board.
Of course, some were quick to question where Cookie (Taraji P. Henson) was in the photo. "Excuse me. How is there no Cookie Lyon look?" wrote one user on the brand's Instagram. "So you just gonna leave my girl cookie out of it," another asked. (Everyone can kindly take several seats — Ms. Henson is doing just fine, what with that Golden Globe win and all.)
Read More: Here's Why Zendaya Is the Perfect New Face of CoverGirl
But even without Henson (sorry Cookie fanatics), CoverGirl has once again touched upon the conversation around diversity in the beauty industry. The brand has a long track record of featuring women of color in ads — including Rihanna, Queen Latifah, Sofia Vergara and Janelle Monáe — whereas other beauty companies seem to shy away.
Although we've seen brands collaborating with women of color and creating products specifically for darker skin tones, it's not often that we see a makeup collection largely curated specifically for their needs. 
It has been done though, and with great success. When Essence Magazine released a curated beauty box back in September 2015, the response was enormous:
Larger brands, such as L'Oreal and Neutrogena, have recognized the demand for multi-colored shades and added to their product lines when partnering with celebrities such as Lupita Nyong'o and Kerry Washington. However, as Mic has previously reported, even when a company gets the product right, they are often marketed in ways that feel alienating.
"Although women of color have many choices available to them today, beauty companies are still placing us in the ethnic category, rather than marketing to women in general with different levels of skin tones," Dana Hill, the founder of Cocotique, a beauty box subscription service for women of color, told Mic back in December 2015. "The issue is some brands treat women of color as a different consumer, which comes off as alienating, instead of inclusive."
If taking cues from pop culture is what it takes for beauty brands to recognize the value of diversifying not just the models they put their products on, but the products themselves, then so be it. Women of color — who, newsflash, also love makeup — deserve to be able to walk into Victoria's Secret and purchase the same exact products as a white woman. 
If the comments on CoverGirl's Instagram announcement are any indicator...
... this collection is surefire hit.