Donald Trump Can Count on These Celebrities of Color to Support Him in 2016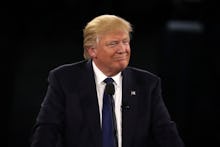 Donald Trump insists that he's not a racist, even though he says really, really racist things about immigrants, black people, Muslims, you name it. But too often, Trump's rise to the top of Republican politics is seen through a troubling binary: A lot of white folks love him, and most people of color hate him.
However, turns out there are prominent people of color who are on #TeamTrump, for varying reasons. And these names certainly won't surprise you:
Stacey Dash
This right-wing darling admitted to Elle that she has plenty of questions about Trump's platform and hadn't made a decision about who to vote for, but "I do think he's a good contender," she said. "He's a great businessman, he's a billionaire, he has connections, he's been bankrupt which means he knows how to get out of debt, which is what we're in."
Mike Tyson
The former heavyweight champ goes way back with Trump. "We're really good friends," Tyson told Marlow Sterne of the Daily Beast. "We go back to '86, '87. Most of my successful and best fights were at Trump's hotels ... We're the same guy ... A thrust for power, a drive for power. Whatever field we're in, we need power in that field. That's just who we are." In another interview with FOX 5 New York, Tyson got more specific: "If you want to get this city out of a dump, you better vote on Trump. OK?" he said. "He's an underdog and no one likes the fact that he is winning. I know Trump. This is a good thing. Vote on Trump."
Tila Tequila
Back in 2015, the model and former reality TV star went on YouTube to declare, "I'm a huge Donald Trump supporter." She then went on to note her similarities with Trump. "People judge me all the time as opposed to listening to the message I put out there."
Dennis Rodman
The former NBA star is known for making headlines, and that was certainly the case when he tweeted out this message in support of Trump's presidential aspirations: "@realDonaldTrump has been a great friend for many years. We don't need another politician, we need a businessman like Mr. Trump! Trump 2016."
Trump was thankful, responding, "Thank you @DennisRodman. It's time to #MakeAmericanGreatAgain! I hope you are doing well!"
Dinesh D'Souza
Back in the earlier stages of this presidential race, this conservative, Indian-American firebrand said he was happy to see Trump in the fray. "I'm actually happy to see Trump out there," D'Souza said on Steve Bratton's conservative talk show. "This is the early stages and he's making the race more interesting and a lot more entertaining."
Latrell Sprewell
The former NBA star tweeted his support after Trump won the Nevada primary.
Omarosa
The former star of Trump's hit reality show The Apprentice has been one of his strongest supporters this election.
"I know him as a personal friend, you know him as a candidate," she told reporters after he attended a meeting with black ministers in New York City. "And I believe that the more Americans get to know him, the more they'll love him."
So Trump has supporters of color and high profile ones at that. Does that make him more or less racist? That's actually the wrong question.
Communities of color are routinely victimized by institutionally racist policies, much like Trump's idea of a closed border and his fervent belief in more aggressive policing in communities of color. And the support he's thrown behind his rally's attendees who brutally remove protesters and people of color who they don't think should be there.
A better question might be: What has Trump proposed to do about racism in America? The answer to that one is obvious. Nothing.