Sasha Obama Proves the Choker Necklace Is Back — and We're Not Mad About It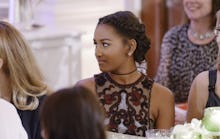 We have known for some time that choker necklaces, a.k.a. every '90s girl's staple accessory next to her butterfly hair clips and slap bracelets, were coming back as more than just a fleeting #TBT Instagram post. 
But, it wasn't until low-key style queen Sasha Obama started popping up with them that we realized that this is a full-blown resurgence. Because if Sasha thinks its cool, we think it's cool. 
Read more: Remember All Those Piercing Trends? Yeah, They're Basically All Back
Here, she proves how versatile her now favorite look is, rocking it everywhere from a walk with dad to inside a State Dinner — or even on a rainy day in Cuba, as one does.
Other great places to wear the choker include when pardoning a turkey or walking to a Cuban baseball game. Sensible, no?
It's not just us that have taken a liking to Sobama's latest accessory.
Chokers have been around since the late 1700s, fashioned around the necks of prostitutes and ballerinas alike for centuries of history. 
But it wasn't until the '90s that the trend really took off. Blame Gwyneth, blame Britney, blame the emergence of choker neck tattoos. But throughout the '90s and early '00s, no red carpet look mattered unless it had a choker fashioned around the neck. (And while we're digging deep in nostalgia, let's all take a moment for Lohan's "Drama Queen" hat.)
In the last ten years, the choker fell more or less into obscurity, probably due to newfound sparkly, skinny scarves or the distraction of large hoop earrings. But, as the Cut keenly announced today, the '90s choker is back with vengeance — and it's popping up everywhere. 
We've seen it all over the runway the last two seasons.
Even the men have gotten in on it.
Off the runway, some of our favorite celebrities have worn the accessory on the red carpet. 
So clearly it wasn't Sasha that started the second coming of the choker necklace. But thanks to the stamp of approval from the 14-year-old trendsetter, it's likely we will now see everyone trying to pull one off — even if it isn't possible to look as chic as she does.