Feast Your Eyes on This Sexy Spaceport — It Could Be the Future of Space Tourism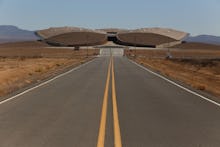 A lone spaceport out in the New Mexico desert, about 55 miles away from the nearest city, is poised to become the future hub for space tourism in the United States.
That is, as long as its commercial spaceflight tenants (like Richard Branson's Virgin Galactic) start flying customers soon.
Construction on Spaceport America started in 2009, but setbacks in the commercial spaceflight industry and problems with the construction have left it only partially operational and largely empty. 
Virgin Galactic, the port's main tenant, plans to offer rides to the edge of space where rich paying customers will get to experience a few minutes of weightlessness. The company originally planned to start offering those rides by 2010, but major setbacks like the fatal test flight crash in 2014 has delayed its plan. 
New Mexico is getting tired of waiting. In 2015, some government officials proposed selling Spaceport America.
"There was a lot of hoopla before that 'if we build it ... they will come,' but it has been several years now and nobody's shown up yet," New Mexico Sen. George Muñoz said in a debate cited on Space.com. "New Mexican taxpayers are continuing to foot the bill for a $250 million empty facility that is providing the legislature shaky operational information at best."
For now, the proposal is stalled, and the spaceport is at least partially operational. It regularly launches a few government and research satellites. Even SpaceX and Google have projects hosted there. It's hoping to attract Amazon's billionaire founder Jeff Bezos and his spaceflight company, Blue Origin.
Virgin Galactic is still committed to the spaceport. It recently revealed its new and improved SpaceShipTwo plane with enhanced safety features, and Branson says it will start flying customers as soon as next year. 
So Spaceport America still has a chance. They built it, and people are slowly coming.
h/t Space.com