Chanel Is Going Gender-Fluid With Its Debut "Unisex" Perfume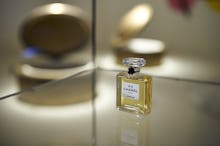 It's difficult to differentiate between Chanel's 17 fragrances, not to mention every other luxury fragrance on the market. But that is exactly what the brand's perfumer, Olivier Polge, is doing with his new gender-fluid fragrance, Boy Chanel.
Unisex scents aren't totally new, but Polge set out with a more specific idea in mind: to prove how well a men's fragrance could work for women, and therefore further the idea that a fragrance can be worn by anyone, despite any "for men" or "for women" labels. 
This is an idea, according to Women's Wear Daily, that has floated around the Chanel brand house for a while.
"My way of working on this fragrance was really not to try to make a unisex fragrance but really more to dive into men's fragrance ... and to show how well it could be worn by a woman," Polge told WWD. "So it was not to try to create an in-between fragrance, but a very masculine fragrance. And — like many other things in life — gender is given by the person wearing it."
Read more: What It Takes to Make a Gender-Neutral Perfume — And Why It Matters
That idea is still a minority opinion in the perfume world, which has long differentiated scents and aesthetics by gender. Men's cologne bottles are often very simple, often one solid color, while women's bottles are in the shape of all different objects (so many flowers) and often bright hues. Inside the bottle, it's rare to find a floral fragrance packaged for men or a musky one for women. But Polge and Chanel are addressing that norm head-on. 
"I was trying to play with rules [of masculinity and femininity], which I liked. By playing with those rules, it's a way of showing there are no rules," he told WWD.
A new moment for "unisex" perfume: Calvin Klein launched one of the first-ever unisex fragrances over 21 years ago. It took over two decades before the company released a "sequel" in October 2015, called CK2.
"CK2 is a new gender-free fragrance that celebrates the endless possibilities of modern connections between two people," Camillo Pane, the executive vice president of category development for Coty Inc., told WWD in October. "We are targeting a new generation that values authenticity and fluidity in their everyday lives."
Calvin Klein was right to recognize the rise of fluidity as a new norm. In January, pop superstar Ariana Grande announced that her newest fragrance, Frankie (named after her half-brother Frankie James Grande), was "non-gender exclusive" and meant to "be enjoyed by all."
Grande wanted "a fragrance a guy would also be comfortable wearing as much as a woman," the perfumer behind the fragrance, Frank Voelkl, told Mic in February. 
It doesn't end there. Many well-known brands such as Tom Ford, Hermes and Jo Malone have all sold nongendered fragrances in the past. 
We've seen genderless clothing on the runways of fashion weeks from New York to London and back, as well as in stores from American Apparel to Zara. Male beauty bloggers are also popping up all over our social media sites with their perfect cat eyes and Kylie Jenner-esque matte lips. 
Like Chanel is suggesting, it's clear customers have decided which clothing, beauty product, or — in this case — fragrance to choose, regardless of what a label might say.