Aerie Gives Plus-Size Men the Underwear Campaign We've All Been Waiting For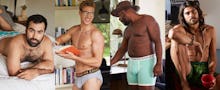 Aerie, the intimates brand known for its anti-retouching policy and the #AerieReal campaign, has just launched #AerieMAN. The new campaign is helping to further swing the body positivity movement to include men in the conversation.
The #AerieMAN campaign introduces four diverse men — Devon, Doug, Matt and Kelvin — in a series of videos on its website along with the tagline: "The real you is sexy." (If the pictures below are any indicator, we'd have to agree.)
"I don't mind that I won't be retouched," Matt (above right) says in the accompanying video. "I feel that everyone should be comfortable in their own skin." 
Read more: Aerie's New Ads Feature Barbie Ferreira, the "Curve Model" to Watch
"This message is going to help guys feel more comfortable in there own skin," Kelvin Davis (seen below) said over email. "It's important for everyone to feel beautiful and confident. The #AerieMan is unretouched and embraces his physical perfect imperfections as all men should. Guys hopefully will be more confident and extend that confidence to fellow men!! After all the real you is sexy!" Davis is the founder of Notoriously Dapper, a body positive style guide for men.
Other brands have had similar ideas, such as Dressmann, which launched its #JustTheWayYouAre campaign in September 2015. But this is the first time we are seeing a mainstream brand take such a bold stance on including men that don't have hairless, washboard abs (we're looking at you, Calvin Harris). 
While the women's body positive movement continues to gain steam, with numerous ad campaigns and influencers speaking about the subject, the need for male body positivity is often overlooked. IMG Models made waves earlier this month after introducing a new division specifically for plus-size guys. 
"The body-positive messaging and size diversity is something that's relevant and something that continues to be on everybody's mind," Ivan Bart, president of IMG Models, told WWD earlier this month. "We have to extend the conversation for men."
It's about time that men of realistic and relatable sizes are given a platform to show off their bodies and prove that with just a little confidence, everyone can be sexy, even without Photoshop. "After all," said Davis, "the real you is sexy!"
Check out the full #AerieMAN campaign video below: 
April 1, 2016, 10:05 a.m.: American Eagle, which owns with aerie brand, has revealed that the #aerieMan campaign was partly a parody and that there isn't actually a full men's underwear line coming to accompany the body-positive video. 
"We aren't afraid of being bold in how we engage our customers, whether through a video that makes you think twice, or challenging the norm in how a brand markets to men," said Chad Kessler, American Eagle Outfitters Global Brand President, in a statement. "We are an all-inclusive brand and we know our male customers respond to humor. We look forward to continuing to innovate and evolve the American Eagle Outfitters product offerings."
However the company will still, as promised, commit to cease retouching its male models in upcoming underwear and swimsuit images, starting with the Holiday 2016 campaigns. And the overall message of body positivity, the brand asserted on Twitter on Friday, are very real.