Is Men In Beauty Ads the Next Step for the Makeup Industry?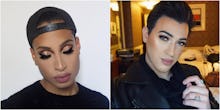 On March 16, drugstore beauty brand Maybelline posted a photo of a beauty blogger on its Instagram — something the brand often does. The difference: This blogger, who has over 1.5 million followers on Instagram, happened to be male. 
Manny Gutierrez, the blogger in question, joins a growing number of talented male beauty bloggers with a belief that makeup is ungendered — and brands are recognizing them for doing so. 
Men are not well-represented in the beauty industry — just take a glance at the makeup ads in the latest issue of Vogue or Glamour. But many male beauty bloggers have developed huge followings regardless, riding a cultural wave that encourages the blurring of traditional gender boundaries.
Read more: These Gorgeous Photos Prove Makeup Isn't Just for Women
Will someone like Gutierrez join the likes of female models and celebrities like Lupita Nyong'o and Ariana Grande on makeup billboards and magazine ads? Or will Tom Ford remain one of the only brands that has featured men wearing makeup? Mic decided to ask male beauty bloggers for their first-hand perspective.
Makeup is still largely seen as a women's domain. Many of the comments on Gutierrez's photo were negative. "WTF? Idiot men are not supposed to DO THAT?" one commenter wrote. "Not cool! This is why I unfollowed Nyx, I guess Maybelline is next," another posted.
There were similar reactions on an Instagram snap posted by Benefit Cosmetics of makeup artist Angel Merino. "OMG is it the end of the world," one commenter asked.
"Somehow our society decided that only women should wear makeup," Jake-Jamie, a U.K.-based makeup artist, said via email. "We often hear phrases like 'manning up,' 'getting on with it' and being 'strong and silent,' and this has left men little space to reposition or redefine themselves in society."
Arieh Simon, a male makeup blogger with over 35,000 followers on Instagram, agreed that criticism often stems from the idea that "men should act like men." 
"For some odd reason, our society has taught us to assume traits of a whole gender," he said via email. "A large part of men in makeup isn't just about enjoying putting it on, it's about destroying stereotypes. Though people usually are stubborn with their opinion, I believe I still challenge the idea of gender stereotypes."
Social media exposure is essential. From Freddie Mercury to Adam Lambert, men wearing makeup in performance is nothing new. But guys today aren't just using makeup for its transformative powers.
"The general consensus from my YouTube audience is that they don't want to change the way they look, just enhance and cover areas of their skin that drain their confidence," Jake-Jamie said. "With 72% of my YouTube channel audience being male, I quickly proved that I wasn't alone and that there are hundreds of thousands of men wanting to improve their appearance, and why shouldn't they?" 
A slew of makeup brands beyond Maybelline — such as Tarte, Nyx, Stila and Benefit — have also used social media as the space to diversify, featuring male beauty bloggers to help promote their lines.
"It makes cosmetic-loving men feel part of the excitement when scrolling through their Instagram feeds," Jake-Jamie said. "Brands that don't feature males are excluding a whole sex from feeling part of the fun of makeup. It instantly makes them feel excluded and wrong for wanting to purchase the brands' products." 
Obsessive Compulsive Cosmetics, a cult-favorite beauty brand, said it has always tried to be inclusive — especially on its Instagram. 
"From the outset, Obsessive Compulsive Cosmetics has celebrated diversity through our campaigns, which have featured transgender women, drag queens, women over 40 and, of course, men," David Klasfeld, the CEO and creative director of OCC, said via email. "We thought that by speaking directly to groups that tend to get very little recognition by the industry, it would set a standard for anyone who's felt like beauty campaigns weren't speaking to their needs." 
Benefit Cosmetics has also worked with and featured male beauty bloggers on its social media pages. 
"Benefit has always been free-thinking and putting the customer's needs first," Nicole Frusci, the vice president of U.S. brand and digital marketing, said via email. "We're all about having fun, breaking the rules, and our free-spirited approach to beauty is apparent across our products, social media channels and all other consumer touch-points."
MAKE UP FOR EVER, a brand that made waves in the beauty industry by featuring transgender model Andreja Pejic, is no stranger to promoting diversity. 
"We create products to inspire people to express themselves creatively and we celebrate our fans' artistry and fearless self expression," Natasha Pirogovsky, executive director of brand marketing and digital at MAKE UP FOR EVER, said in an email. "The spirit of MAKE UP FOR EVER is diverse and inclusive. It is important for our social platforms to reflect this spirit, which we will continue to showcase on our Instagram."
What about a full-blown male beauty campaign? Many hope the influx of exposure will lead to brands including men in their beauty advertisements.
"This 'be yourself' movement is so powerful, it's intoxicating," Alex Faction, a Chicago-based makeup artist, pointed out via email. "Every day the modern man changes and the gender-role wall continues to lower. The world needs these powerful [beauty] companies to pledge their support to an open, expressive world."
Recently, gender fluidity has become a constant topic of conversation. We've seen men wearing women's clothing on the runway and vice versa, brands releasing gender-neutral clothing lines and even gender-neutral toys and furniture. But beauty products are still missing from this list. 
"I admire companies who support all artists regardless of age, sex, gender, race or ethnicity," Miguel Ghalichi, a florida based makeup artist, concluded. "Art should be open to everyone, and choosing to deny a male artist recognition because of his gender is discriminatory. There is something so beautiful about a man who doesn't follow the common standards that society has constructed."