This Beautifully Diverse "Tea Party" Shows What Lingerie Ads Could Look Like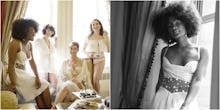 What happens when four bloggers of all different shapes and sizes come together in one place dressed in only lingerie? Well, they have a tea party, of course. 
But, this was no ordinary tea party, where folks drink tea from teacups and nosh on tiny finger sandwiches. It was the setting for a collaborative photo series entitled "Lingerie is for Everyone to Enjoy," an inclusive ideal shared by bloggers Sweets Nothing of Sweet Nothings NYC, Rose Wednesday of The Lingerie Addict, Elisabeth Dale of the Breast Life and Cora Harrington of The Lingerie Addict, all of whom participated in the shoot.
Read more: Aerie Gives Plus-Size Men the Underwear Campaign We've All Been Waiting For
"The four of us are all incredibly passionate about making the world of lingerie more accessible to all kinds of women — older women, LGBTQ women, women of color, plus size women, and so on," Harrington said via email. 
The photo shoot was in direct response to the lingerie ads we typically see in magazines and in commercials.
"The imagery we see in lingerie (and fashion) is often exclusionary by design. It's described as aspirational, but part of that aspiration is to be young and thin and white and straight," she said. "If you're not any of those things, it can feel like lingerie isn't meant for you. So we wanted to show that the world of intimates can be accessible, no matter how you look or what your identity is." 
"I think more people are talking about plus-sized models, but I don't think that's expanded to more representation in the lingerie industry," she said. "The vast majority (including market leader Victoria's Secret) are happily upholding the status quo." 
More and more companies, however, are breaking that status quo. Plus-size retailer Lane Bryant, for instance, started the "I'm No Angel" campaign in response to Victoria's Secret's angels' lack of body diversity. H&M's & Other Stories brand featured a "For Women, By Women" campaign showcasing a diverse set of women with tattoos, scars, birthmarks and body hair. 
Harrington knows that one photo shoot is not going to fix the lack of diversity within the lingerie industry, but she hopes it can be a start. "It was amazing to be a part of a project that's helping, in at least some small way, to change the paradigm," she said. "If even one person looks at the shoot and feels like lingerie is something they can now wear, then it's worth it."