Even Wealthy Families Earning $250K Need Housing Help in Silicon Valley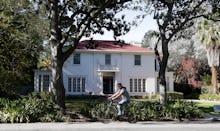 Even wealthy Bay Area families have a tough time paying for housing in the heart of Silicon Valley.
Now, Palo Alto's city council has approved a proposal to study the problem.
Palo Alto, the suburb about four miles north of Google's headquarters in Mountain View, California, is considering building subsidized housing for families who earn between $150,000 and $250,000 annually, according to KPIX.
In most parts of the country, that sort of six-digit income is considered wealthy. In 2014, the average American family took home roughly $53,000 in income. But income three times that amount doesn't go far in the heart of Silicon Valley, which boasts the country's third highest median family income. In nearby San Francisco, rents shot up more than 14.8% in the 12 calendar months between March 2014 and March 2015.
Palo Alto Vice Mayor Greg Scharff painted a pretty dismal picture of the city's affordability to KPIX: "Prices have just gone through the roof, making it unaffordable for middle-class people, your firefighters, your teachers and, frankly, some of your doctors."