Kendall and Kylie Are Latest Celebrities to Claim Perfect Skin From Just a Splash of Water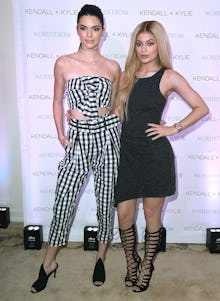 Thanks to social media and TV, we've gotten to see Kylie and Kendall Jenner's radiant skin from every HD angle. But do you ever wonder how they are able to maintain their sleek — and almost flawless — look?
Read more: Kylie and Kendall Jenners' PacSun Collection Hits Stores This Week. Here's All the Info.
Well, thanks to the editors over at Racked, who interviewed the Jenner sisters at the Nordstrom launch party for the Kendall + Kylie clothing line, you, too, can have picture-perfect skin. The sisters have revealed their top skin secret, and the key is... wait for it...
Water.
"I wash my face morning and night, and I never touch my face," Kendall Jenner said. 
In addition to this groundbreaking revelation, Kylie added her number one super secret tip: "coconut oil and sunscreen, all over." 
At least Kylie gave us a little more to work with by adding the coconut oil. But still, we have questions. Where, exactly, are you putting the coconut oil? How often? And, most importantly, how is it possible that "washing your face" and "sunscreen" are the only products needed for smooth, seemingly poreless complexions?
Especially given Kendall's past struggle with acne, as well as the layers of makeup each of the sisters slathers on for their day jobs, it's hard to believe that all they require is some facial cleansing.
But Kendall and Kylie aren't the only celebrities that have convinced us there must be something in celebrity water that us commoners don't have access to:
• Jennifer Aniston recently revealed her morning routine to Well + Good, where she explained that her whole face routine is "just soap and water." 
• Lea Michele made sure to inform Women's Wear Daily readers that one of her skincare secrets is as follows: "I treat my skin very delicately; I don't go to bed without washing my face." 
• "OK, one tip — always wash your face at night. Clean it," Salma Hayek told U.K. television host Kate Garraway in 2012. 
• Models are also not immune to the water. "The first thing I do when I get home is wash my face," Victoria's Secret Angel Candice Swanepoel revealed to Marie Claire UK last week. 
• "When I wake up, I wash my face only with water, and I take a small towel and dab it gently," said model Magdalena Frackowiak to Vogue UK back in October. 
• In 2007, model Isabeli Fontana told PopSugar that she not only doesn't use a cleansing product, she doesn't even use tap water. "The most important thing is to wash your face with Evian water. ... Just leave it on your face until it dries."
What we've learned: If you want celebrity-like skin, you better invest in some sink water... or a celebrity makeup artist.