These Customizable Dolls Are Putting the Power to Define Beauty in Kids' Hands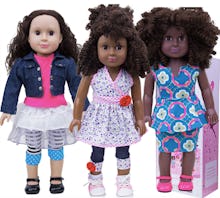 From American Girl to Our Generation, there are a growing number of dolls bringing diversity to the toy market. But My Muse Dolls, a company launched in September 2015, aims to do something other doll companies aren't: start a conversation about ambition and global cultures at a young age, with dolls that reflect that worldview.
What's really cool about the Muse girls? They are completely customizable on the website. My Muse Dolls' founders wanted to offer kids more choices over how they would represent their beauty, something they believe isn't common in the doll world. 
Read more: Barbie Brandy Isn't Just Cute AF — She's Also Got A Message About Beauty Diversity
Kids can choose between three skin tones, three hair choices and nine outfits (more options will be rolled out soon). As you can see with the dolls below, the hair choices so far are more accurate and varied than some other retailers. The natural hair here looks, well, natural. 
Though a few physically diverse dolls might have already existed on the market, the story behind the dolls didn't match up with the ideals the My Muse Dolls founders wanted to share.
"[We wanted] a modern doll [that] had a persona, to start conversations about high academic and professional ambitions that we feel should be introduced to girls early on," Amaka Cypriana Uzoh, one of the cofounders, said over the phone.
The website currently features two dolls from the United States and one from Nigeria along with background stories that the creators hope can turn the dolls into "muses," or models to spur girls to action. 
Of the three "featured" dolls, Adamma wants to be a medical engineer, Keva wants to be a lawyer and Liliana wants to be a movie director. Customers are encouraged to choose what their doll wants to be when she grows up, inspiring young girls to be ambitious.
"[We want] the dolls to serve as more than beautiful companions, but also a dynamic play platform that drives intercultural learning and mutual understanding," Uzoh said. "We're passing on this 'call to action' to the girls with conversations that say, 'You are beautiful as you are and part of a powerful, vibrant, global sisterhood.'"
Through the dolls' stories, the map and the social causes that the company supports (Visao Foundation and Latinitas, to start), the company's aim is to encourage girls to learn about other cultures instead of just their own, something Uzoh doesn't think is beyond young kids.
"Do we think this is too big of a concept for young children? Not at all," she said. "You do not have to be a grown-up to start doing great, meaningful things that impact others. Your actions have a ripple effect and are impacting others already."