This Man's Joke About Pat McCrory's Anti-Trans Law Went Viral, But He's Not Laughing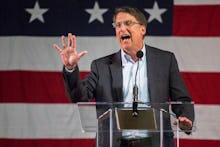 This is James Parker Sheffield, a 36-year-old transgender man in Decatur, Georgia. On Thursday, he had some pretty pointed words for Gov. Pat McCrory after North Carolina passed an anti-trans law mandating every person in the state to use the bathroom that correspond to their assigned gender at birth. 
"@PatMcCroryNC It's now the law for me to share a restroom with your wife," Sheffield tweeted the North Carolina governor along with a stern-faced, bearded selfie of himself wearing a camouflage University of Georgia baseball cap. 
Read more: North Carolina Reminds the World After Anti-Trans Law That #WeAreNotThis
The tweet quickly went viral, but Sheffield doesn't actually think his joke is that funny. 
"It's super funny to think about some bearded hillbilly in a stall next to the governor's wife while she clutches her pearls," he said on Friday in a phone interview. "But it would never play out that way in reality." 
So what would happen?
"The more likely scenario would be that I take a road trip through North Carolina — which I do often — stop at a gas station and try to use the restroom," he said. "I can follow the law and go into the women's room in a state that's a Stand Your Ground state with a very liberal open carry law, and if I do that, are women gonna stop and ask me if I'm trans? Or are they just going to shoot me because they think I really am a predator because all they see is some bearded guy walking into the women's room?"
For Sheffield, that's not even the worst of it. He describes himself as "a white guy with the privilege of a stable roof over his head," one who can "find ways to avoid public restrooms when it's uncomfortable." He can go to the restroom in peace at his job at The Health Initiative, a statewide health and wellness nonprofit that works with LGBTQ Georgians, or he can go home, where he lives with his wife — but others aren't so lucky.  
"I work in a safe space," he said. "That's not the case for many trans people, especially trans women of color, who will be disproportionally impacted," because they're much more likely to live in poverty or be unemployed, and are thus more likely to have need of public facilities. 
Sheffield has lived in Georgia all of his life and sees a particular irony in another Southern state passing a state law that also makes it impossible for local municipalities to pass their own non-discrimination ordinances. 
"In addition to a harmful situation created in terms of public safety, a much bigger issue is the inability to see progress on any level if local governments are stifled in this way — which is so anti the GOP line on small government," he said. "The power of local government was just usurped."