'Crazy Ex-Girlfriend' Just Perfectly Summed Up the, Uh, Perks Of Having "Heavy Boobs"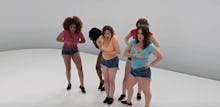 If there is one thing that Crazy Ex-Girlfriend's Rebecca Bunch does best, it's tell it like it is. From relationships to body issues, Bunch (played by Golden Globe winner Rachel Bloom) is easily one of the most relatable characters on television.
Read more: 'Crazy Ex-Girlfriend' Just Gave Us a Refreshingly Honest Take On Male Bisexuality
Monday's episode is no exception, featuring a musical number about an unspoken issue many women deal with on a day-to-day basis: big boobs. "Each of my double D's has the volume of a toddler's head," Bloom sings in the appropriately titled song, "Heavy Boobs." 
"This is a song I've been wanting to do for two years and was inspired by showing off the realistic side of having big boobs," Bloom said in an email. "This is one of the rare instances that we tailored some of the plot to fit this song in and earn it."
This video is a comical take on a real issue that many women face. Besides their cumbersome weight, many women with bigger breasts have trouble finding bras and clothing items that will comfortably fit. It's not all bad, though, as Bloom points out — #bigboobproblems do offer some unexpected perks, including:
1. Your bountiful cleavage can easily clock someone in the face. 
"Now bitching bout my boobies, they look super fly in shirts, but if I swung them in your face you'd be like oh my god that hurts."
2. Food tends to fall into your bra, but later slides out and becomes a nighttime snack.  
"Stuff falls into my bra, it's a little bit of a drag. But when I go to bed at night, it's like opening a Mary Poppins bag."
3. You can hold plenty of items in your cleavage. 
"Here is a list of all of the objects that I can hold under my boobs: stapler, ten pencils..." 
But yeah, they're also pretty painful. Check out the full video for "Heavy Boobs" below.
h/t Fusion