The ACLU Just Slapped North Carolina Officials With a Lawsuit Over Bathroom Law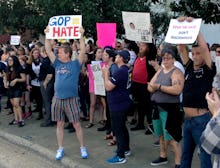 On Monday, the American Civil Liberties Union of North Carolina, Lambda Legal and Equality NC filed a lawsuit against state officials in response to a bill signed into law last week that bans transgender people from using the bathroom that coincides with their gender identity.
The lawsuit, filed on behalf of three state university employees, two of whom are trans, names Governor Pat McCrory, Attorney General Roy Cooper and the University of North Carolina as defendants.
Read more: In Wake of Anti-Trans Law, North Carolinians Tell the World #WeAreNotThis
In a press release on the ACLU website release, Lambda Legal Senior Attorney Tara Borelli calls the law — previously known as H.B. 2 or the Public Facilities Privacy and Security Act — an "unprecedented attack" on the rights of transgender and other gender nonconforming people. 
"Clearly H.B. 2 is unconstitutional as it not only violates the guarantees of equal protection and due process in the U.S. Constitution but it also violates Title IX by requiring discrimination in education," said Borelli. "North Carolina legislators cannot strip equality out of the Constitution and the law." 
Recently, the National Basketball Association, as well as major corporations like Apple, Dow Chemical and PayPal, spoke out against the legislation, and Twitter users across the state rallied behind the hashtag #WeAreNotThis. 
"Now is the time to be on the right side of history,"  Equality NC Executive Director Chris Sgro said in the release. "Together we will show the politicians that North Carolina refuses to be a leader in bigotry."