Where Are the Plus-Size Women in Beauty Ads?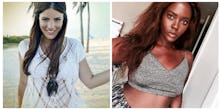 In December 2015, French model Clémentine Desseaux made waves after being "cast" as the newest face of Christian Louboutin's beauty line. 
Cosmopolitan wrote "Desseaux, who is between a size 12 and 14, will be the star of the brand's new social media campaign for its line of rouge lipsticks," while Jezebel mentioned, "This is the first time the luxury brand has used a [plus-size] model in their campaigns." (Even we initially reported she had been officially signed.)
Read more: It's Time to Ditch the Phrase "Real Women"
There was but one small issue: This was all news to Desseaux. Christian Louboutin had simply reposted a video of Desseaux applying the brand's lipstick and wasn't actually working directly with the model.
But, Clémentine Desseaux said in an email, "I loved reading and hearing all the positive messages that followed to both the brand and myself. It was like something really game-changing had happened. And I guess in some ways, it did happen."
What the misunderstanding proved — just look at the reaction tweets below — is that consumers are more than ready for a curvier model in makeup ads.
"People finally saw something that was refreshing but, more importantly, drastically different than what they have been fed by all beauty brands for so long," Desseaux said. "They saw something real, unretouched and still strong and beautiful." 
From Ashley Graham landing the covers of Sports Illustrated and Maxim and Project Runway crowning its first ever plus-size designer, to celebrities like Melissa McCarthy and Rebel Wilson debuting inclusive clothing collections, the fashion industry has made progress in embracing plus-size diversity. But while fashion is a slow-moving train toward diversity, the beauty industry is a car stuck in a traffic jam. 
Why?
Why are so few plus-size women modeling makeup? It's not as though it's never happened before. In 2013, plus-size model Robyn Lawley scored a Barneys New York beauty campaign. Beauty powerhouse CoverGirl has worked with Queen Latifah in the past and most recently featured Gabourey Sidibe in an Empire collaboration. 
MAC Cosmetics has also tried to be inclusive by working with Beth Ditto, and in September 2015, the brand chose plus-size woman Luzmaria Vargas as one of the winners of its MACnificent Me contest. 
"At MAC, our mantra is all ages, all races, all sexes," James Gager, the brand's senior vice president and group creative director, said in an email. "We encourage self-expression, individuality and self-transformations; these are the basic foundations of the brand. Everyone is welcomed into MAC. There are no rules."
Still, these instances are rare.
"When you look at beauty ads, it's pretty clear that the white skinny woman is still pretty much the only model of beauty out there," said Desseaux. "Even though some brands are doing [the] great work of including of beauty, they are still a very small minority."
That's bizarre given that, as Desseaux put it, "beauty products are one-size fits all. The typical 'excuse' for not including plus-size women in shoots/advertisements is due to a lack of samples in a diverse amount of sizes. Beauty brands, in contrast, don't even have this argument to stand on. Makeup ads, especially photos (as opposed to commercials), mostly focus on faces. That, ironically, may be one reason we still haven't seen progress."
"Since beauty campaigns generally focus on a model's face instead of her body, there has been less of a push for size inclusivity," Jennie Runk, a plus-size model, said in an email.
Social media can play a big factor in the conversation. On Wednesday, Racked noticed that Forever21 had changed the type of women they were featuring on the brand's plus-size specific Instagram account, Forever21Plus. The account, which was launched in February, had faced backlash from customers claiming the models featured on the page were not plus size or diverse enough.
"Thanks to social media, those who previously felt excluded from mainstream beauty standards have been given a voice and brands are starting to listen, but there's still a long way to go," Philomena Kwao, a plus-size model, said in an email. 
Platforms like Instagram are ripe with images of plus-size women, both models and non-models, rocking beauty products. "The less afraid people are of putting themselves out there, the more we as people are forced to see happy people loving themselves in every shape and size," Alyssa Marie, a makeup artist and curvy model, said in an email. "I think the more attention plus-size models/bloggers get from the public, the more brands will see the demand for a change."
Progress on the horizon: But are the effects of social media users enough to change a rigid, stick-to-the-same-type-of-model system? Becca Thorpe, a former plus-size model and Desseaux's agent at Muse Management, certainly thinks so. 
"People want to see this change, see someone they can relate to," Thorpe said over the phone. "It's making casting agents think about who they've casted." 
Thorpe believes these changes in the fashion industry have specifically caused casting directors to rethink who they are choosing for beauty campaigns, and she said that she's recently seen many plus-size models in the running for beauty ads.   
"Someone will realize that real is beautiful, that women will respond to originality and raw beauty," Desseaux said. "A brand out there will want to make a revolution and own it. It's time beauty [brands] start representing their customer and not an inaccessible, idealized image of what they think beauty should look like."
The bottom line is consumers want to see something they relate to, and that involves seeing more women of all shapes and sizes — women that look like they do, instead of the one type of face usually shown in beauty ads. Many different people wear makeup, so perhaps its time beauty ads reflect this.