Kehlani Hospitalized in Apparent Suicide Attempt After Cheating Rumors With PartyNextDoor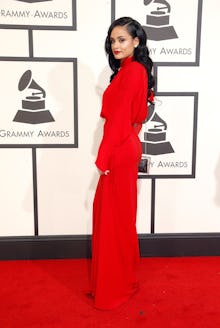 After 24 hours of having her name dragged through the mud by a number of gossip blogs, 20-year-old rising singer-songwriter Kehlani was hospitalized Monday night after reportedly attempting suicide. Her message to fans on Instagram from her hospital bed followed a public and confusing shakeup between her and two of the men in her life, NBA player Kyrie Irving and her ex, PartyNextDoor, Drake's prodigy. Kehlani shared a post on Instagram addressing the rumors she cheated on Irving with PartyNextDoor after the latter shared a photo on Instagram of the two in bed; the account was then deleted.
"Today I wanted to leave this earth," Kehlani wrote in a photo of her arm hooked up to an IV. "Being completely selfish for once. Never thought I'd get to such a low point but... Don't believe the blogs you read... No one was cheated on and I'm not a bad person... Everyone is hurt and everyone is in a place of misunderstanding..But as of today, I had no single wish to see tomorrow." 
Following the post, the hashtag #StayStrongKehlani began trending across social media. However, even as she was struggling after a level of public scrutiny and shaming she's never dealt with before, Twitter users were engaging with the hashtag to trounce her and discuss her supposed cheating on Irving. 
"You say social media is the goddamn devil when you use the same tool to say what you want," one user wrote, referring to Kehlani defending herself from accusations of cheating, before her apparent suicide attempt. The Twitter user then ironically employs the hashtag #StayStrongKehlani.
Other messages circulating Tuesday on Twitter grossly ignores the fact that a young woman might have tried to take her life, asking, "where was the mo'fuckers when Kobe's wife took half his dough, where where these mo'fuckers telling Tiger Woods stay strong when his he was fucking bare white chicks and his wife took half his fortune...Tupac & Aaliyah dead but my ex still alive #LifeAintFair."
Kehlani's private life had been thrown into the limelight after PartyNextDoor posted an Instagram photo of the two holding hands and watching TV in bed with the caption, "After all her shenanigans, still got the R&B singer back in my bed." Sites ran with the idea of a public cheating scandal, with Elite Daily's Joseph Milord writing, "Riddle me this: If Kehlani cheated on Kyrie Irving with PartyNextDoor in a forest, did it still happen? It doesn't matter, everyone saw it anyway." 
However, it's unclear if Kehlani actually cheated at all — it wouldn't be the first time a young relationship went bad quickly, and she is adamant she hasn't done anything wrong. In reality, none of these sites had any idea whether Kehlani and Irving were still together when PartyNextDoor posted his photo of the two — but the fact she appeared to be recently dating Irving was enough to give these sites and social media users all they needed for a public shaming. 
Fortunately, by Tuesday morning, the #StayStrongKehlani hashtag was silencing critics. "If she cheated or not you are not the one who was cheated on," wrote one user. "So back the fuck up and chill with the slut remarks."slut remarks."slut remarks."
PartyNextDoor has since deleted his post, and Irving hasn't commented.