People Are Not Happy With Ashley Graham's Allegedly Photoshopped 'Maxim' Cover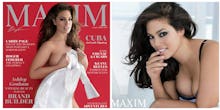 From becoming the first ever plus-size model to cover a Sports Illustrated Swimsuit Issue, to being featured in five magazines in the month of March alone, 2016 is clearly the year of Ashley Graham.
It came as no surprise that she was chosen to be the first ever plus-size model on the cover of Maxim for its April edition. What was surprising: her fans' reaction to the photo shoot, with many calling out the seemingly altered appearance of the images.
"They airbrushed you to look smaller. why?" one commenter asked on an Instagram photo the model posted of the cover. "Compared to the pics she posted from her #AdditionElle line, these look crazy photoshopped and that makes me sad — Maxim should have done better at representing the woman she is," another commenter wrote. 
Read more: Ashley Graham Wants You to Know That Curvy Girls Work Out
We could go on and on listing the dozens of comments, but many came to the same consensus: Fans love Graham for her authentic representation of a female body. This, they believe, is not reflected in the Maxim spread.
"Too much photoshop @theashleygraham, you're an ambassador for curvy girls and self esteem building," one comment read.  "Gorgeous but I hate how they photoshopped the shit out of you for this cover was not necessary we want you for you," wrote another.  
Graham has told Entertainment Tonight that she doesn't believe in having her body completely altered. 
"I see a lot of the photos that go onto the screen, the raw images, and we talk about not Photoshopping this and, 'Oh, can you take that zit off of my face away?'" she explained to ET on March 28, adding:
I believe in a little bit, but when you're reconstructing my body, when you're reshaping my hips and my thighs and you're taking certain cellulite away — Hello! I talk about it! I got cellulite. It's like, don't do that, because the customer realizes and the girl who follows me realizes it's just overdone. There is a tasteful way to do it.
Graham has actively worked to counteract the narrow body standards created by excessive Photoshop, including leading Lane Bryant's I'm No Angel campaign. She also has created her own lingerie line with Canadian retailer Addition Elle for plus-size women. Above all, she has been outspoken about body positivity and the term "plus-size." 
"Girls who are insecure about their bodies, girls who feel fat, girls who have cellulite, girls who have stretch marks on their body — those are all the things that I had as a kid and I never had a woman like me growing up to look at," Graham told People back in March about her Sports Illustrated. "To have somebody who has cellulite, who has things that jiggle, who has back fat and talk about how you can be an overcomer and not let society take you down for all of that. That's real."
That said, it's important to note a few things: Many, if not most, magazine photos are digitally altered. If this shoot was airbrushed — and it hasn't been confirmed that it was (we reached out to Maxim for comment) — that decision would not have necessarily been Graham's to make. While the thought of digitally altering the body of a woman who has spoken out against the very notion is troublesome, it's important not to jump to pin the blame on her. 
Graham has released the following statement: 
"I'm beyond proud to be the first curvy woman on the cover of Maxim. I was not slimmed down on the cover, and Gilles Bensimon did an amazing job capturing my true figure in all of the photos. This is another major advancement for curvy women, especially those who work in the fashion industry who are working hard to get the recognition they deserve. I now encourage  more publications and designers to put more diversity on their covers and runways. Let's continue to show that beautiful bodies come in different sizes and they should all be celebrated."
And if Graham's multiple Instagram posts sharing images from the spread is any indicator, she is happy with the results. And if she's happy, we're happy.
h/t Cosmopolitan
March 30, 2016, 2:30 p.m. Eastern: This story has been updated.