9 Important Questions We Have About Kylie Jenner's Wigs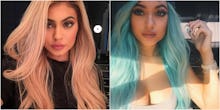 Kylie Jenner changes her hairstyle more often than Kim Kardashian posts a nude photo online. In other words: often.
From mint green to hot pink, just when you think you've seen it all, the youngest of the Jenner clan debuts a new 'do. Why the sudden changes, you ask? In September 2015, Kylie explained (on her app, of course) that she first became addicted to hair dye and switching up her look at the ripe age of 16.
Read more: These Lip Masks Are Meant to Moisturize Your Pout... But All We See Is Kylie Lips
"Constantly changing up my style makes me feel creative and it helps me with my confidence," she wrote. "It makes me feel like a new person. I love feeling different and I love leaving the house knowing that nobody has ever seen me this way. It's hard for me to go back to different styles I've worn before; I don't always like my normal short, black hair." 
Her collection of meticulous, custom-made wigs has us asking some very important questions. Because, as Kendall recently said about them on her website, "I don't understand how Kylie does it!"
1. Is that a wig? 
Our thought process when Kylie Snapchats her latest hair color: "Is that her real hair? There is no way that's a wig. She was blonde yesterday — that has to be wig." But come on, they look so real. Those roots!
2. What does her real hair even look like?
We're confused every time we see Kylie with long, silky hair, wondering if she's wearing a wig or just using extensions. "Because I change my hair so much, it's become damaged," she told US Weekly. So is it safe to assume we will never get a glimpse of Kylie's natural hair?
3. How many wigs does she actually have?
Kylie has generously given us a behind-the-scenes look at her life through her app, where she decided to post a video tour of her "glam room." While nothing is quite as exciting as seeing Kylie's selfie lights, we finally were able to see where she keeps her wigs. We still theorize she has many more than what was shown, and at this point she might have a closet-full. Which leads us to our next important question... 
4. Does she style her wigs herself?
We assume she has a hairstylist to do her wigs, but what about in a pinch? You know, the times when she's just driving around with Jordyn Woods, posting all of the highlights of her day on Snapchat. Does she have to comb her hair? 
And does she have to wash them? Celebrity hairstylist and founder of design studio Wigbar, Isaac Davidson, said in an email that you must wash and dry a wig before styling — and we have a feeling Kylie isn't doing that herself.
5. How does she choose what color to wear with her wigs? 
If King Kylie has an endless supply of color options, how does she possibly choose? Does she randomly get an urge to go blue or go pink? Does she color-coordinate her outfits? Does she change what she's wearing so that it goes with her hair? You obviously cannot wear pink hair with everything. 
6. How much do these wigs cost?
According to her hair stylist Tokyo Stylez, a lot. "The low range can average anywhere from $650 to $700, but I've done wigs that cost up to $3,000 or $4,000," he told Allure. "It depends on how it's structured and what kind of hair you use." Also, how does she come up with these? Does she conceptualize something and just text her wig guy to make it? Davidson explains that a full lacewig (one that is handmade) takes a few days to create. Does this mean she plans her wigs out ahead of time? 
7. Importantly, does Kylie want us to know whether it is a wig or not? 
Like her lips, were her wigs something that was supposed to be a secret? Did she want fans to think she was changing up her look via hair dye? Did she want them to think she was au naturel?
8. What color will we see next? 
At the end of the day, all that matters is two things. First, that Kylie is happy expressing herself and continuously showing us that she doesn't care if you like her or not. Second, that she will continue to throw us off with her ever-changing look. 
9. So are other Kardashians donning wigs that we don't know about?
Kylie has tricked us so many times that we've begun to wonder whether other celebrities' gorgeous long locks are actually fake. Are all of the Kardashian/Jenners a part of a wig-sharing club, but only Kylie has branched out into some obvious these-are-wigs wigs? Was Kim Kardashian's blonde hair real?
Someday we hope to ask the King herself these questions. But until then, we will continue to wonder just how exactly this wig business works. 
In summary: Reign on, King Kylie.