These Badass Stylish Grandmas Are Major Inspo for Musical Festival Season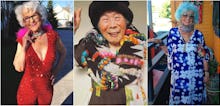 We expect a lot from our grandmothers: snacks our mom won't give us at home; money slipped into our palm as we leave her house; cards for any and every holiday. What you might not expect, however, is for your grandma to have a closet you might want to raid.
Read more: Here's How Instagram Is Changing the Clothes We Buy and Wear
We've seen stylish octogenarians on the internet for years now thanks to projects like Ari Seth Cohen's Advanced Style, but the current crop of fashion-forward grandmas have a bent that's more Bonnaroo than Bergdorf's.
There's a reason women are showing up in the feeds of edgy hairstylists who normally cater to their grandchildren, getting nods from fashion labels and building cult followings all their own. Joie de vivre is a good look at any age. 
With Coachella just around the corner, there's no better time to start building your mood board with these glam grannies. 
Roberta Haze first made an appearance in 2015 on Advanced Style's blog, and thankfully she's started her own Instagram to document her own looks. Her signature look is her cotton candy blue hair paired with a necklace that succinctly says it all: "LEGENDARY." 
Get the glam gram look: Take a note from Haze's playbook this summer and make a statement with your necklace before you ever open your mouth. Now's the time to spring for that custom Patricia Field number you've been lusting over since SATC. 
Emiko is the 94 year-old grandmother of Japanese textile artist Chinami Mori. She also happens to be her granddaughter's biggest fan and the owner of an infectious smile that doesn't seem to have an "off" switch. 
Emiko is a frequent model/muse on Mori's Instagram, and her granddaughter couldn't be happier. "[My grandmother is] my favorite person in the whole world," Mori told Instagram last year. "I make grandma happy, and that's just so much fun for me, too." Emiko also caught the eye of Gucci, who featured her on its Instagram, pairing a headpiece from her granddaughter with a Gucci print. 
Get the glam gram look: Give Emiko's penchant for print-mixing a try with something subtle, like with the ASOS dress Malia Obama recently wore in Cuba. 
No round-up of grandmas on Instagram is complete without a mention of the best and the baddest, Helen Van Winkle. 
Whether she's rocking designers like BCALLA, hanging at the VMAs with Miley or showing out at a musical festival, 87-years-young Van Winkle takes a jackhammer to the tired notion that you should "act your age." Working with her great-granddaughter, Van Winkle's Instagram feed is a constant stream of Drake, weed and bikinis. 
Her iconic, vibrant Instagram persona was actually born out of heartache. She overcame the grief of losing her husband and son by dressing the part of a party girl. "I blamed God forever," she told Refinery29. "I cried all the time because I couldn't come to terms with it, so I made myself over into Baddie Winkle." Her 1.8 million Instagram followers couldn't be happier that she did. 
Get the glam gram look:  Two Baddie Winkle staples are a T-shirt dress silhouette and sense of humor. Inject both into your life with the corset tee from Beth Ditto's new line. 
With young people rapidly encroaching on traditional grandma hair color territory, and people proudly claiming themselves "twentysomething Grandmas," it's no wonder that some older women are pushing back and showing they're more than a stereotype. 
These women are living their golden years boldly, in the public eye, and people are responding to their unique spins on style. Get Insta-grandma adventurous this summer during festival season, but don't be surprised if Baddie Winkle clocks you at Governor's Ball for jacking her look.