Christian Louboutin Adds Two Key Skin Tones to Its Inclusive "Nude" Shoe Collection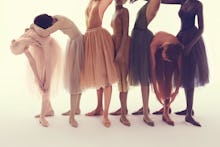 The term "nude," when it comes to clothing at least, is usually synonymous with "peach" or "somewhat tan." In other words, it has been nearly impossible for women of color to find nude clothing and accessories that match their skin tone.
In April 2015, Christian Louboutin recognized this issue by releasing an inclusive collection of nude shoes, debuting five different shades to represent the diversity of the women who were buying his products. Now, the legendary luxury designer has done it again, adding two new colors to the collection.
The Nudes Collection now features seven hues ranging from "fair" to "chestnut." For those girls looking to give their feet a break, the colors are also available in flats. 
"I've always done a Nude shoe but only using the color beige," Louboutin said in a blog post on the brand's website. It wasn't until a coworker told Louboutin "beige is not the color of my skin" that the designer realized he had to add to the collection. 
As the positive comments on the brand's Instagram show, many are excited to finally see a diverse line of shoes. 
"Thank you for having the vision to do this and then to EXPAND the nude range is just everything," one commenter wrote. "They may 'only' be shoes, but you're making a difference by designing and retailing inclusiveness and diversity," another posted. 
Read more: What It Looks Like When the Shopping World Realizes People Come in All Colors
This is not the first company to bring forward the idea that nude is not a color. On March 21st, underwear designer Björn Borg released an inclusive collection of undies to represent six different skin tones. 
"We reflected over the fact that this is a concept that traditionally is targeted towards caucasians only. Beige and blush is the norm," Pernilla Johansson, the brand's head of public relations, said in an email to Mic at the time.
This doesn't stop with just fashion, either. Beauty blogger Ofunne Amaka created an Instagram account to show how makeup products look on dark skin, something she felt was not often addressed in the industry. Clearly, a movement is beginning to percolate.
With a pair of Louboutins costing upwards of $595 for flats and $895 for pumps, more affordable brands need to join in the fight for inclusive fashion so that matching nude products can be made accessible to all.