Black Girl Mogul Mikaila Ulmer's BeeSweet Lemonade Made $11 Million From Whole Foods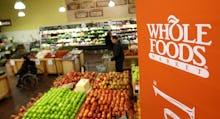 Mikaila Ulmer isn't your average 11-year-old.
She's taking lemonade stands to a whole new level, inking an $11 million deal with grocery giant Whole Foods to sell her own natural lemonade called BeeSweet, made from her great-grandmother's recipe from the 1940s. But instead of adding sugar or artificial sweetener, Ulmer decided to use honey — even though she wasn't a fan of bees. "When I was four years old, I got stung by two bees in one week," she said to NBC News. "It was painful. I was terrified of bees."
That changed when she did a research project, found out that bees were in danger of becoming extinct in coming years and decided to do her part to support beekeepers. 
Ulmer, who's from Austin, Texas, first made headlines in 2015, when she was a contestant on ABC reality TV show Shark Tank and walked away with $60,000 in venture capital to start her business. It's safe to say that the investment definitely paid off.
BeeSweet will soon be available in at least 55 Whole Foods locations across the country.
h/t BET