These Lip Masks Are Meant to Moisturize Your Pout... But All We See Is Kylie Lips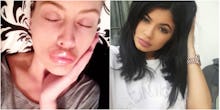 Mover over, sheet masks: Lip masks are the new beauty trend to get behind. 
Patchology, a luxury skincare brand, recently released FlashPatch Lip Gels, or moisturizing masks for your lips. Made with green tea extract, the patches are meant to be applied for five minutes in order to hydrate, revitalize and naturally plump. (That's also five minutes you have to go without talking.)
While some might see the product as an easy primer before lipstick or a solution to dry lips, all we see is Kylie Jenner and her artificially plumped up pout. 
Here The View's Paula Faris looking like she's trying to get the Kylie look while testing the gels. 
Clearly, the lips look Kylie plump-esque while using the lip treatment.  
Thanks to the gels, the Derm Store's employees could be confused for Kylie Jenner and her model squad. 
Patchology isn't the only brand to release gel patches. Korean beauty brands Tony Moly and Etude House have similar, but even more Kylie-esque options for sale. Just like face and sheet masks, the products make for the perfect Instagram.   
You have a total of five minutes, as the gels work their magic, to channel your inner King Kylie. But, unless you opt for a more permanent lip plumping solution like a lip enhancing beauty product or fill injections , once the gels come off, you have to go back to being a commoner.