Minneapolis Police Officers Who Shot Jamar Clark Will Not Face Criminal Charges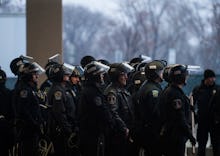 Two Minneapolis police officers who had a fatal altercation with Jamar Clark, a 24-year-old black man, will not face criminal charges, the Hennepin County prosecutor announced Wednesday.
Both officers, Mark Ringgenberg and Dustin Schwarze, were placed on leave while the department investigated the shooting in which they allege Clark interfered with emergency medical personnel who were trying to attend to a person Clark had assaulted. Several witnesses came forward to dispute the police officer's story, saying that Clark was actually in handcuffs when he was shot.
Clark is one of dozens people who've been killed by Minneapolis police since 2000.
Clark's death spawned several protests in Minneapolis in the winter of 2015, including a protest at Minneapolis's Mall of America on Dec. 23.
The ACLU and NAACP have called for the Minneapolis Police Department to release video footage of the shooting. 
"Our community is in a great deal of pain as a result of the shooting of Jamar Clark at the hands of the Minneapolis Police Department," Nekima Levy-Pounds, president of the NAACP Minneapolis, said in a statement in February, according to the Washington Post. "It's imperative that we demand accountability and transparency, which includes being able to gain access to the video footage of this tragic incident."