Bow Down, Lululemon Bitches — Beyoncé Is Releasing a Workout Clothing Line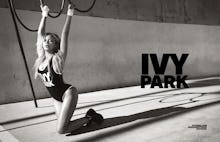 We might not have her new album quite yet, but there's important Beyoncé news to report nonetheless: Queen Bey is releasing a clothing line!
The singer's activewear and athletisure collection, Ivy Park, will be available in stores and online on April 14 at a variety of retailers from Topshop to Nordstrom. Let the countdown begin (#reference).
Read more: The Important Message Behind Beyoncé's Dancers' Outfits
Bey got her army of fans riled up with a sneak peak at the the line, which consists of leggings, crop tops, tees and sweatshirts, in a video released on the Ivy Park YouTube channel and website.
The collection, a line created in collaboration with Topshop owner Sir Philip Green, was first announced back in 2014.
"I could not think of a better partner ... I have always loved Topshop for its fashion credentials and forward thinking," Beyoncé said at the time. "Working with its development team to create and produce a technical and fashion-led collection is exciting and I'm looking forward to participating in all aspects of this partnership."
This isn't Bey's first venture into fashion, having created House of Deréon with her mother Tina Knowles back in 2011. But, this is the first time she is tackling athleisure wear. We can expect to see many girls channeling their inner Queen Bey at the gym. 
Oh, and don't be surprised if these items are impossible to get, a la H&M's Balmain collaboration or Kanye's House of Pablo merch. 
The collection can be seen on Beyoncé's just-released Elle cover.
Check out the full video preview of the line below: