Lululemon Made a Dig At Beyoncé — And the Beyhive Clapped Back With a Vengeance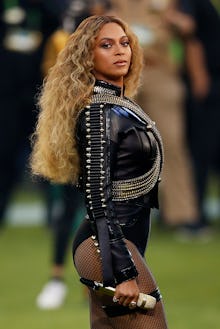 Unless you've been hiding from the internet all day, or gasp, spending time offline, you know that Beyoncé just announced the release of an athleisure clothing collection, Ivy Park. 
Twitter sunk into instant pandemonium, not knowing which aspect to talk about first: the clothing? The commercial with Blue Ivy? Her Elle covers? When her album was going to drop?
But it was Lululemon, making sure to cash in on the athleisure conversation, that jumped in with a notable tweet — without taking into account the wrath of the Beyhive.
When one user asked, "Is Ivy Park supposed to be like Lululemon," the brand responded in a now deleted tweet, "They do say imitation is the best form of flattery. Maybe Beyonce is so Crazy In Love with our brand, she made her own." 
What happens when you make the Beyhive mad? You get stung. 
The intended joke fell flat, thus Lululemon has now spent the last few hours apologizing to numerous people on Twitter and making their allegiance to Bey known.
Until Bey fans find something else to be excited over, say, her new album, it's likely Lululemon will have to endure the wrath of the Beygency.  
Read more: Bow Down, Lululemon Bitches — Beyoncé Is Releasing a Workout Clothing Line
h/t Racked