Naomi Campbell Experiences Acute Word Vomit When Coming to Ashley Graham's Defense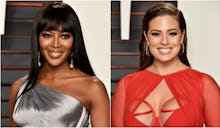 Ever since former model Cheryl Tiegs told an E! red carpet reporter that she didn't like Ashley Graham's Sports Illustrated cover, the topic has become fodder for just about everyone. "What do you think about Ashley Graham?" has effectively become the new "Are you a feminist?"
When model Naomi Campbell was asked to weigh in on the subject, things turned... well... interesting, to say the least. 
Read more: Naomi Campbell Calls the Fashion World's Diversity Problem "Disappointing"
It started off fine. When Campbell was asked about Tiegs' criticism of Graham on Thursday, during an appearance on Sway in the Morning, she replied, "How does she know that?"
"I would never make a comment like that. I think it's way too personal," Campbell added. "I don't know what Ashley eats and that's not necessarily because you're bigger, that means you're eating tons of food. I've got tons of friends who are bigger."
That's where things took a turn for the face-palm. 
"It could be a hormone problem. I don't think Ashley's big like that," she said. "She's not a beast. I think sometimes our bones are bigger and we're just built that way. That doesn't mean we're fat. I wouldn't comment on someone's size. I just think it's wrong. I think she's a beautiful woman, regardless what color or creed. She should be able to model."
While we assume Campbell's had the right intentions and was asked the question live on-air, her comments have us asking some questions:
For one, "a hormone problem" — really, Naomi? 
Two, what does "big like that" mean? Big like what? 
Three, is "she's not a beast" supposed to be a compliment? 
Campbell is not the first celebrity to be dragged into the Ashley Graham conversation. Model Molly Sims told People that we need to "be more accepting." Kate Upton also praised the model to E! saying, "She looks absolutely stunning... I was excited that it showed all the different body types. I think it's important for all girls to see that." 
Regardless, we know that Campbell has always been one to support diversity in the modeling industry. She's even stated that she will not retire from her 30-year modeling career until there is increased inclusion. 
But here's a thought: Ashley Graham is killing it, whether on the cover of Sports Illustrated, Maxim, Glamour or the myriad other places she popped up in the month of March alone. Let's stop asking fellow models to dole out "approval" of Graham, and instead celebrate her place at the crest of the movement to bring plus-size women to the forefront of fashion.
Check out the full interview below: 
h/t E! Online