Afrika Bambaataa, One of Hip-Hop's Legends, Has Been Accused of Child Molestation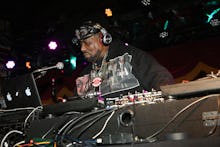 Hip-hop's most seminal year was arguably 1979, when hit songs "Rapper's Delight" and "Planet Rock" took over America's airwaves. At the center of it all was a DJ from the Bronx named Kevin Donovan, whose stage name Afrika Bambaataa has become synonymous with the roots of hip-hop.
But in shocking new claims, former New York State Democratic Committee member Ronald Savage says that, as a 13-year-old in that same year, Bambaataa molested him. 
"I was a kid when this happened," Savage recently said in a phone interview with New York City radio host Star. "I wanted to be down with the in-crowd, not really understanding that what Bambaataa was doing to me was molesting me. I knew it was wrong. I had these feelings that were like, 'Yuck.'"
The Universal Zulu Nation released a statement on Friday afternoon. It reads, in part:
"Once again rumors, slander and outright lies have been aimed at Africa Bambaataa and the Universal Zulu Nation," it reads. "First of all this attack not only is defamation and assassination of character it is a diversion and attention shift tactic designed to counter all the positive works of the Universal Zulu Nation."
Editor's Note: The following paragraphs contain graphic descriptions of sexual abuse. 
Savage recounted his experience in graphic detail. "The very first time that this ever happened to me, I was in school and I was cutting," Savage said. "I needed a place to go, so I called Bambaataa to see if I could go and hang out at his house. I had no knowledge of none of the stuff that Bam' does. When I went over to Bam's house, he had me go over to his room. I was watching television. That's when Bam' came over and he had took his penis out and he had started jerking it off — masturbating. And he asked me to do it. I'm looking at him like, 'What?' He told me that it was okay."
"At that time, I have this big guy, Afrika Bambaataa of the Zulu Nation ... I was confused," he continued. "I really didn't know what to do, but I wanted to be down. So I did take it out and Bam' told me to jerk it. I didn't know what 'jerk it' meant at that time. So he actually jerked it for me."
Savage plans to take legal action, though it's not clear how New York state's 30-year statute of limitations on such alleged crimes will effect his plans. "At this point in time, it took this long to come forth, so I needed telling the story to happen before considering a meeting" with Bambaataa, Savage said, referring to his claim that Bambaataa has tried meeting up with him recently to discuss the claims.
You can listen to the full interview below:
Bambaataa has not yet addressed the allegations publicly. 
h/t Uproxx
April 1, 2016, 4:27 p.m.: This post has been updated.