Amandla Stenberg Just Gave Us the Real Reason Intersectionality Is So Important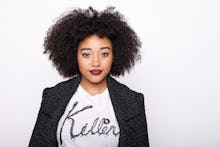 America's wokest teenager refuses to let the rest of us sleep. 
In a Q&A with Interview magazine, actress Amandla Stenberg shared her personal views on having an intersectional identity and what it means to live with multiple marginalized identities at once. 
"I oftentimes receive the question, 'What do you think is the most important social issue to focus on?' Stenberg told Interview. "Or, 'What's the most important component of identity? Is it gay rights or race or feminism?' And I'm like, 'Well, they're all intertwined. It's all one conversation at the end of the day. You can't just pick one."
This is not Stenberg's first time rocking the mic on these issues. Stenberg, set to star in a Black Lives Matter-inspired film, has a history of preaching to others about the importance of shutting down racism, embracing natural hair and being a bisexual black woman.   
But for Stenberg, it's important that these issues are dealt with simultaneously, rather than one at a time. 
"People experience all kinds of prejudice because of all different parts of themselves," she said. "And that doesn't make one part more important than the other. We live in a society that does not openly accept every kind of human being. And so the result is when you are yourself and someone who's marginalized, it becomes a revolutionary act."
It's easy to see why Stenberg chose to focus on the importance of intersectionality. As a black bisexual woman and actress, she's dealing with a very white gay media, a very white Oscars and an often very white feminist movement. 
And no one understands the blind spots of certain communities like people living at the intersection of multiple identities. Recently, gay black football player Michael Sam said he experienced more racism in the gay community than he did homophobia in the black community. Stenberg told Interview what it's like to claim these multiple identities when you're a member of the LGBTQ community. 
"Unfortunately or not unfortunately, take it as you will, when you are a marginalized person or a woman of color and/or someone who's a part of the LGBTQ community, your acts become politicized, just by being yourself," she said. "Because we're not completely accepting of all different kinds of human beings ... By being myself, I'm doing something political."
Clearly, being so vocal about these issues draws criticism. But more importantly, it inspires others.
"For the people who feel inspired by what I'm doing, there's something so concrete and powerful in what's happening when they feel empowered," Stenberg said. "There's actually some kind of growth or self-acceptance, some kind of self-love that's actually being triggered, hopefully. And that's real."