Aerie's Male Body Positive Campaign Was Cruel April Fools' "Parody" — and Twitter's Pissed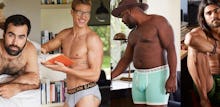 Just when you thought body positive conversations were becoming more inclusive, here comes a head-scratching announcement that the recent Aerie campaign, #AerieMAN — which featured four diverse men along with the tagline "the real you is sexy" — was in fact an April Fools' "parody" of Aerie's own #AerieReal campaign. 
Read more: Aerie's New Ads Feature Barbie Ferreira, the "Curve Model" to Watch
American Eagle Outfitters, Aerie's parent company, issued a press release on Friday announcing that the hoax was launched to raise awareness about body diversity.
"American Eagle Outfitters proves once again they're not afraid to take a risk and have a laugh in support of a good cause," it reads, announcing its pledge to "forego retouching its male models in its underwear and swim images beginning Holiday 2016."
Dissatisfied with that answer, Mic reached out to the company. "#AerieMan was not a prank but rather an opportunity for us to raise awareness about body positivity," an American Eagle spokesperson said in an email, which the company also reiterated on Twitter.
While American Eagle might have thought this would be a humorous take on an important issue, the internet was less than amused, with many why wondering this warranted a parody at all. After all, what is funny about diverse male bodies? And why did the campaign have to be a parody in order to "raise awareness about body positivity"? Why wasn't it "real"?
Naturally, Twitter didn't miss a beat in calling bullshit:
Although there has been some positive discussion about male body confidence, such as IMG Models launching a male plus-size division and brands like Chubbies on the rise, the #AerieMAN debacle is a sad step back in the slow-building momentum. 
Men of all shapes and sizes deserve campaigns that cater to them — no joke.