Wisconsin's White People Want to Stop Donald Trump, Too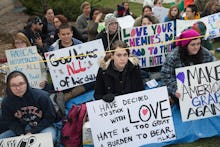 There's a long list of racial constituencies that are horrified by Donald Trump's rise as the top Republican candidate in the race for president. That list includes, in no particular order: Mexican Americans, after Trump called Mexican immigrants "rapists" and vowed to build a massive wall on the United States border with Mexico. Muslim Americans, angered by Trump's promise to ban all Muslim travel to the U.S. (except for the rich ones!) And members of the Movement for Black Lives, who along with other progressive activists are building a broad coalition to agitate Trump through the GOP's summer convention and beyond.
But leading up to the Wisconsin GOP primary on April 5, one particular segment has also emerged as a loud critic to Trump: white voters.
Trump is already viewed unfavorably by 68% of white women and 74% of white college grads, according to a Washington Post poll. That same poll found that even white men view Trump unfavorably by a margin of 51 to 47. Those numbers may be at odds with the presumption that Trump is riding a wave of working-class white resentment to the top of the Republican Party. Certainly, high-profile endorsements from the likes of former KKK grand wizard David Duke haven't helped that perception.
Within this group of white voters are constituents who use the principles of racial justice to show that Trump's attacks against Muslims and people of color actually impact their lives, too.
Anti-racism white activists against Trump: "We're responding to Trump in this moment, and we're using it as a call for white people to take action," said Kristen Brock-Petroshius in a phone interview. Brock-Petroshius works with the group Groundwork, a white anti-racism collective based in Madison, Wisconsin, whose chief mission is to engage white people in the fight for racial justice.
On March 28, the day before a scheduled Trump rally in the relatively small, industrial city of Janesville, Wisconsin, six activists from Groundwork and allied groups staged a sit-in at a Holiday Inn hotel where Trump was slated to host Trump's rally. Local media reported that protesters chanted slogans "no hate in our state" and "build communities, not walls." They were joined by roughly 70 supporters.
In a series of statements members later released, they painted their aims in clear terms. "I cannot sit by and hope that the extreme racism and nationalism Trump has incited will go away if we just ignore it," said Ali Brooks in a statement. "When my family members, neighbors, and people I love — immigrants, Muslims, black people, queer and trans folks, people with disabilities — are being targeted by violence and hateful rhetoric, the risks are too great."
During the demonstration, white activists explicitly linked their activism to a long history of anti-racism organizing in America. "I think a lot of civil rights activists put themselves in much scarier situations," Brock-Petroshius said to Mic's Celeste Katz during the sit-in. "That's part of what pushed our country to change, and they're our inspiration."
After the protest, Voces de la Frontera, Wisconsin's largest immigrant rights group, issued a statement of support praising the Janesville protest. "Nonviolent direct actions like tonight's send the message that millions of people in this country of all races and ethnicities will not allow Trump's plans to come to pass," said Christine Neumann-Ortiz, the group's executive director.
On March 29, protesters showed up to confront Trump at his rally in Janesville. Police estimated that 5,000 to 10,000 people showed up in total, some supporting Trump, others protesting him. Like many protesters before them, those in Wisconsin were met with violence by Trump supporters. A 15-year-old Trump protester was pepper sprayed by a supporter:
But for many, the danger was worth it. "I feel like it is my responsibility, as a white person, to put my body on the line in the name of justice," Wisconsin resident Shawna Lutzow said to ThinkProgress, "and I am prepared to do what it takes to stand up to hate."
Accomplices, not allies: White activists speaking out against racial injustice is not new. In fact, they've played a pretty significant role in the modern fight for racial equity. In his Letter From Birmingham Jail in 1963, Martin Luther King Jr. outlined his disappointment in white people who chose to remain silent during that era's political unrest.
"I have almost reached the regrettable conclusion that the Negro's great stumbling block in his stride toward freedom is not the White Citizen's Counciler or the Ku Klux Klanner, but the white moderate, who is more devoted to 'order' than to justice," King wrote. Months later, more than 200,000 people gathered for the historic March on Washington, including future presidential candidate Bernie Sanders, who'd already been active in the Congress of Racial Equality since 1961.
Later in the 1960s, Black Panther Party for Self-Defense co-founder Huey Newton called for white allies to form the White Panther Party, which became especially active in Michigan and even produced their own 10-point program. After 17 million Americans boycotted grapes in the 1960s in support of the United Farm Workers' Delano strike and boycott to win better wages for Mexican and Filipino farmworkers, Cesar Chavez applauded the multiracial coalition that made it happen.
"That segment of the population which makes our boycotts work are the Hispanics, the Blacks, the other minorities and our allies in labor and the church," Chavez later said in a speech. "But it is also an entire generation of young Americans who matured politically and socially in the 1960s and '70s — millions of people for whom boycotting grapes and other products became a socially accepted pattern of behavior."
Today's anti-racism white activists are also not alone. Groundwork is part of a national alliance of dozens of anti-racism groups called Showing Up for Racial Justice, which encourages white people to speak out against racism, and equips them with tools to better support communities fighting racial injustice.
For Brock-Petroshius, the Janesville protest was a pivotal moment in which the group went "from the framework of white people being allies to being accomplices in ways that we're accountable to folks of color."
That meant being proactive about planning the action, but also holding themselves accountable to communities of color who are directly targeted by Trump's proposed changes. In short, it meant putting their bodies on the line. "For me, it was important that we were able to provide leadership rather than hesitate," said Brock-Petroshius. "There were moments where we hesitated and we checked in with people [of color groups]."
The ultimate goal is simple. It's important "to show white folks taking more risks and escalating tactics and pushing people to choose sides," she said. "Are you on the side of racial justice or are you on the side of hate and fear?"
Whether that's enough to stop Trump remains to be seen. But with him trailing in the polls in Wisconsin, it's already off to a strong start.
Additional reporting provided by Celeste Katz.