Man Accused in Death of Islan Nettles Doesn't "Gay Bash," but Had "Pride at Stake"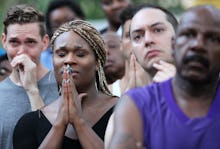 Jury selection begins Monday in the trial of James Dixon, the 25-year-old man accused of manslaughter and assault in the 2013 death of Islan Nettles, a 21-year-old black transgender woman.
The jury will certainly have its work cut out for them. Though Dixon gave police statements describing his involvement in the incident just days after it happened, he was not charged until March 2015. In the videotaped statement, detectives and prosecutors seem skeptical of his account, and ask if he has been paid, coerced or threatened. Meanwhile, another man was charged with assault in the case. The district attorney later dropped those charges.
Read more: Brutal New Details Emerge in Trial of Man Accused in Death of Islan Nettles
In the videotaped statement, which lasts for approximately 1 hour, 10 minutes, Dixon is reluctant to say he approached Nettles and began hitting on her. When pressed by detectives, Dixon explained why. "I don't go around gay-bashing people," he said. "I don't care about what they do, I just don't wanna be fooled. My pride is at stake."
Dixon has pleaded not guilty to first- and second-degree charges of manslaughter and a first-degree assault charge stemming from an altercation in Harlem on Aug. 17, 2013. In a videotaped statement played Friday in open court, Dixon said he was out partying with two friends when he came across Nettles, "thinking it was a female." When his friends "yelled out what it was," Dixon pushed Nettles away. When she pushed back, he punched her in the face, knocking her to the ground, where she sustained a fatal brain injury once her head hit the sidewalk. He then punched her again in the face and fled.
In a written statement given hours after he went to police Aug. 20, 2013, Dixon described being "fooled by a transgender" the week before, which may have caused him to react to Nettles with "blind fury" after friends began teasing him. Dixon also says he blacked out after the incident.
Nettles is one of at least 25 transgender women of color who have been murdered in recent years. Her death has sparked cries for action in New York City and across the country, where states have varying degrees of legal protections for people based on gender identity. North Carolina, for instance, recently passed a law mandating that every person use the bathroom that aligns with their assigned gender at birth.