8 Options for When You're in the Mood to Spend Hundreds on Clothes That Should Cost $20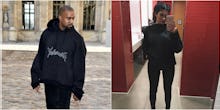 You might have seen celebrities like Kanye West, Kylie Jenner and Rihanna rocking a semi-baggy black sweatshirt with the word "Vetements" plastered across it. Surprisingly, these sweatshirts — which look like ones you could pick up at your local thrift store — are $600. 
Yes, $600 for a sweatshirt. 
Even if you have the money to spend on this sweatshirt, it won't be easy to find it. Many sizes of the sweatshirts, brought to you by the hot new Parisian brand, have already sold out. 
But you're in luck! There happen to be many other basic, overpriced items out there for your wanton spending. The carefully curated selection below is but a small sampling of the clothes whose price tags suggest they are covered with diamonds, even though they are not. 
1. Crewneck Hoodie
Saint Laurent cotton sweater, $850; Forever21 sweatshirt, $7.99
Why buy a 45% cotton sweatshirt for $20, when you could purchase a 100% cotton version for only $850? That is 55% more cotton! Plus, it was made in Italy and we all know the Italians have the best cotton. Win. 
2. Zip-Up Sweatshirt
Tom Ford zip-up, $1,990; Old Navy zip-front hoodie, $20
Tom Ford's light gray hoodie looks like one you could scoop up at Old Navy or Gap. But unlike the cheaper, dry-cleaner-friendly version, Tom Ford's is "knitted from soft cotton-blend," therefore justifying the very reasonable $1,970 price increase. It also has two-way zipping, and we don't think you could find that anywhere else for a lower price. 
3. White T-Shirt
Dolce and Gabbana T-shirt, $295; H&M jersey top, $5.99
This Dolce and Gabbana tee wins the award for cheapest luxury item on our list. Don't be discouraged: We know you wish it cost more, but it is still worth the $295. Everyone needs a classic white tee that goes with every outfit, and this one stands out among the other extremely hard-to-find white tees on the market.
4. Shorts
Fendi shorts, $350; Nike shorts, $28
We know: You think Lululemon and Nike are too cheap. You've found yourself wishing they cost more. Lo and behold, we found you a pair of designer shorts. They will go perfectly with your kale drink and cut-out yoga top, which you also paid too much for. Keep up the pattern! 
5. Ripped Jeans
Balmain jeans, $1,216; American Eagle jeans, $19.99
Once you remember Balmain is the label that sent fans in a frenzy for its H&M collaboration and is a No. 1 choice of the Kardashian-Jenner crew, you'll be eager to buy multiple pairs of these pants. We're sure the rips on the American Eagle version aren't as precise as those on the Balmain pair, anyway. 
6. Long-Sleeve T-Shirt
Rick Owens jumper, $392; Under Armour long-sleeve shirt, $39.99
This Rick Owens "jumper" (as the Brits say) might look exactly like any long-sleeve shirt that you could find at Under Armour. But trust us, it's better. Why get one with reflective logos for night runs and high-tech material for odor prevention when you could wear something far less useful?
7. Cotton Tank
The Row tank, $320; Alfani basic tank, $14.99
This $320 white cotton tank is almost as exciting as the the Olsen twins, aka the designers behind the very expensive The Row. Because it is "crafted from lightweight cotton in a bright white hue," as opposed to a dark white hue like the Alfani one from Macy's, it costs a little over $300. 
8. Joggers
DSquared2 joggers, $1,065; Tilly's jogger pants, $36.99 
These joggers from DSquared2, the same brand that designed Beyoncé's Super Bowl outfit, are called "vintage" and a "throwback" on the retailer's website. This is the only explanation you need for why you should spend $1,065 on a pair of cotton pants. Come on, it's vintage. You won't be able to find a similar pair anywhere, so you might as well spring for it. 
In sum: Why spend only $143.94 on all of the cheap items, when $6,478 could get you all the luxury versions? In Kardashian World, that is not even half a Birkin. Treat yo'self. (Or don't, because all of these items are basic AF.)