People Are Accusing Adweek of Altering Kerry Washington's Face for Its Cover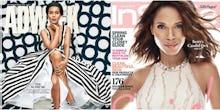 When it comes to Kerry Washington appearing on magazine covers, there always seems to be an unfortunate trend — and it always seems to involve Photoshop. 
Did you notice anything off on the December 2013/January 2014 issue of Lucky?
How about on the March 2015 cover of InStyle?
And now, does anything about this recently released Adweek cover stand out? 
The Lucky cover still has us questioning what they did to the Scandal star's face. Her InStyle cover ignited a debate of whether or not the magazine had white-washed her skin, as well as changed her nose and lips. Now, enter the April 4 edition of Adweek. 
Read more: Did 'W' Whitewash Zendaya and Willow Smith? Twitter Is Blasting April Cover.
On Monday morning, the magazine's TV writer, Jason Lynch, tweeted the first photo of Washington on the new cover. While she looks gorgeous, a closer look at the photo started raising questions from many on Twitter.
Despite the questions being ask on Twitter, Adweek claims it did not retouch Washington's features or skin tone. 
"We've seen some of the questions from readers and want to ensure them that the cover photo is an accurate representation of how Kerry Washington appeared on set with the lighting used in the photo shoot. We stand by that 100%," said James Cooper, editorial director at Adweek, in an email. "This issue was addressed well before publishing and the editorial decision was to not alter her features or darken/or lighten any of her skins tones whatsoever."
We know that all magazines use digital photo editing to varying degrees. But somehow, Washington seems to always get the short end of the airbrushing stick, alerting her appearance to the point where she's nearly unrecognizable. 
And that doesn't need to be the case, considering there have been many covers where Washington looked incredible, without looking like another human being.
We have a suggestion — how about publications stop altering Washington? If there is one thing we've learned about this beauty, besides the fact that she slays as Olivia Pope, it's that she looks flawless without being airbrushed to look like someone else. 
April 4, 2016, 2:30 p.m.: This story has been updated to include comment from Adweek.