James Dixon Pleads Guilty to Manslaughter of Islan Nettles, Black Trans Woman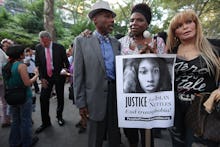 James Dixon's trial for the manslaughter and assault of Islan Nettles was over before it started.
On Monday, Dixon, 25, pleaded guilty to first-degree manslaughter after punching Nettles repeatedly in the head on Aug. 17, 2013.
"With this conviction, James Dixon has finally been brought to justice for this brutal and lethal assault," said District Attorney Cyrus R. Vance in a press release. "Members of the transgender community are far too often the targets of violent crime. I hope that this conviction provides some comfort to Ms. Nettles' family and friends, and affirms my office's commitment to protecting members of the LGBTQ community."
The plea was an abrupt about-face for Dixon, who had plead not guilty to all counts since he was first charged in March 2015. Last week, his attorney, Norman Williams, had his motion to suppress key evidence in the case, including a videotaped statement Dixon gave to police days after the incident in 2013, denied.
It was that statement that gave an even more heartbreaking light to Nettles' death. Nettles, 21, was walking down a Harlem street with two friends in the early morning hours of Aug. 17, 2013, when she encountered Dixon, who had been drinking with friends and looking for a party. 
On tape, Dixon describes how he tried to hit on Nettles, who he "he believed to be female." When he discovered that she was transgender, after friends nearby began taunting him, he recoiled in anger, pushed Nettles, asked if "she was a man," and struck her in the face before she could answer. The blow was so hard that it knocked Nettles to the ground, where she hit her head on the pavement and suffered what would turn into a fatal brain injury. Dixon then described hitting her again in the face before fleeing to the nearby home of a family friend. He didn't know about Nettles' medical state until days later, he said.
By then, police had already zeroed in on another suspect, a 20-year-old friend of Dixon's named Paris Wilson. Wilson was charged with misdemeanor assault. Those charges were eventually dismissed.
Three days after the incident, Dixon visited Wilson at his Harlem apartment building. After identifying himself and describing his involvement, Wilson's mother, Simone Gordon and grandmother accompanied him to a local police station, where he met with detectives and, later, two assistant district attorneys, Gordon testified at a hearing last week.
In statements later given to police, Dixon described having been "fooled by a transgender" the week prior, and how that incident drove him to "blind fury" when he encountered Nettles. Toward the end of the hour and ten minute interview, Dixon tried to explain what happened. "I don't go around gay bashing people," he said. "I don't care what people do. I just don't wanna be fooled. My pride is at stake."
By most accounts, that pride had been badly beaten in the months leading up to his encounter with Nettles. Dixon did not have a job, was not in school and had recently been kicked out of his mother's Brooklyn apartment. 
Meanwhile, life was on the upswing for Nettles. She had recently moved into her own apartment in Harlem, landed a job at H&M, and was working on her own fashion line called Vanity Rose. 
"It was amazing to see how well she was transitioning and how beautiful she was becoming," Daequan Andino, one of Nettles' mentors, said in a phone interview. "When she passed away, everything was falling into place."
Dixon's sentencing will be April 19, and the district attorney has recommended a 17-year sentence.
April 4, 2016, 2:43 p.m.: This post has been updated.