What the First Model with Down Syndrome in a Beauty Campaign Wants You to Know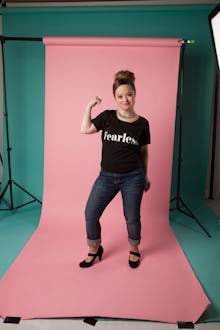 Katie Meade was a natural when she stepped on set for her first-ever beauty product campaign. Little did everyone in the Des Moines studio know, the advertisements would soon go viral for being the first campaign to feature a woman with Down syndrome. 
Read more: This Model With Down Syndrome Walked in a Fashion Show and It Was Beautiful
Meade, a 32-year-old Best Buddies International Global Ambassador and Special Olympics gold medal winner, perfectly embodied the fearless ideal that beauty brand Beauty & Pin-Ups was looking for when casting for its latest product launch. 
"I love looking good because when I look good, I feel good about myself and that's my motto... I want to inspire others, especially people who have intellectual and developmental disabilities to follow their dreams, like I have," Meade said in an email. "I love to show the world that people with disabilities have abilities." 
"When we were creating our brand, it was very important to us that we built a brand that mattered, one that stood for something and had strong social conscience," Kenny Kahn, the brand's CEO, said in an email. "The Best Buddies team introduced us to Katie and we were instantly taken by her charm, personality, and authenticity."
This might be her first time on-set, but posing for the camera quickly became natural to her. "It was cool that everyone came here to spend the day with me," she said. "I had a lot of fun getting ready for the photos, fixing my hair and putting makeup on. I tried on lots of cool clothes for the photos."
Could this campaign lead to other inclusive beauty ads? 
In the past year, we've seen Madeline Stuart, a model with Down syndrome, take the fashion industry by storm, walking in New York Fashion Week and landing two clothing campaigns. 
But even then, she's just one woman out of over 400,000 people living with Down syndrome in the United States, not to mention the many others living with learning disabilities. And most ads train their focus on able-bodied models.
"Brands are quick to tout their disruptive tendencies and celebration of all beauty, but when you look at the faces of launches or campaigns, they tend to fit a mold," Kahn said. "To us, beauty has no boundaries, and we're not afraid to stand behind that with our ad campaign and product packaging."
When it comes to beauty campaigns in particular, as Kahn mentioned, we tend to see one type of woman being used.
So here's a suggestion: Why not feature models that customers can relate to, or who bring a different ideal of beauty to the table? 
"We want to have opportunities like everyone else," Meade said. "Beauty belongs to everyone."