Black Men From Compton Build a Restaurant to Shatter Perceptions of Gang Members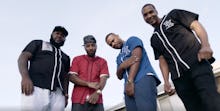 Move over, Thug Kitchen. Trap Kitchen is here to show the world what's really good.
Trap Kitchen began in 2013 when four best friends decided to sell plates of their bomb-ass, homemade food to their own community. The group — Malachi "Spankihanas" Jenkins, Roberto Arturo "Bad News" Smith, DJ Kev and Awol — grew up together around Compton and South Central Los Angeles, and decided to use their street smarts to start a legitimate business that's now getting widespread attention.
What's unique about the project is that the men come from various gang affiliations — one is a Blood and another is a Crip, for instance — but that hasn't stopped them from working together. "We went from hanging in the clubs and messing with them girls to hanging in the kitchen and messing with food," Smith said in an interview in January with Munchies, the food section for Vice. "I'm a Piru, and he is a Crip, but that doesn't matter." 
"Trap is 'take risks and prosper,'" Smith said to Great Big Story recently. "That's what we doin' in here." 
The genius behind the project is its simplicity. The Trap Kitchen crew creates culinary masterpieces in their own kitchens, and then delivers them to people who've placed orders around their South Central neighborhood. It all started when Jenkins moved to Las Vegas to attend culinary school at Le Cordon Bleu. He eventually dropped out and became a personal chef for local hustlers, where he perfected his craft. After Jenkins moved back to Los Angeles, he teamed up with his friends to start up their small business. 
"Through Instagram, I was posting my food," he recalled to Great Big Story. "People was like, 'Oh, that looks so great!' I was like, OK, now it's time for me to offer this food to the streets — like how a d-boy pushes dope."
The result is seafood gumbo:
The lobster shrimp and king crab boat — in a pineapple:
Grilled and smothered chicken chops with collard greens:
Homemade chili beans:
Barbecue dinners:
Burrito bowls:
And fried chicken dinners:
Now, the neighborhood shop is being noticed by celebrities such as Common:
Ice Cube:
Anthony Anderson:
"My neighborhood has its own [music] label called BBE, so we've catered food for a lot of artists in the past," Jenkins said to Munchies. "Snoop Dogg, the Game, Tyrese, Reverend Run, D'Angelo, Lil' Durk and a bunch more."
Here's a behind-the-scenes look at how the work gets done:
Keep it cookin', fellas.