Victoria's Secret Angel Erin Heatherton on Why She Quit: "I Was Told I Had to Lose Weight"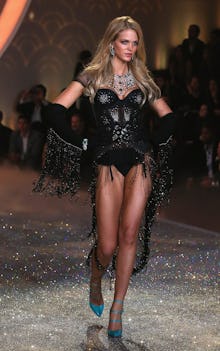 Victoria's Secret Angels — yes, those fit models we see walk down the runway ever year during the eponymous fashion show wearing bejeweled lingerie — have insecurities just like us non-models do. 
In fact, those insecurities may be heightened by being an Angel in the first place.
Erin Heatherton, who walked in the show from 2008 to 2013, recently spoke with Motto about the struggles she had with body image while working for the brand. 
"My last two Victoria's Secret shows, I was told I had to lose weight," she said.
"I was really depressed because I was working so hard and I felt like my body was resisting me," Heatherton continued. "And I got to a point where one night I got home from a workout and I remember staring at my food and thinking maybe I should just not eat." 
Being told you need to lose weight, no matter what your size is, is never fun, so she said goodbye to the brand.  
Read more: Victoria's Secret Swim Special Misses Out on Featuring Plus-Size Models
"I realized I couldn't go out into the world — parading my body and myself in front of all these women who look up to me — and tell them that this is easy and simple and everyone can do this," she said. 
Because news flash: It's not. 
Even though her last walk in a Victoria's Secret show was in 2013, Heatherton only recently took to her Instagram account to speak about issues she's faced "hiding behind a fabricated version of [her]self," in hopes of encouraging other women to be "the truest versions of themselves." 
"I'm willing to sacrifice my pride, in a sense, and my privacy because I know that if I don't speak about it, I could be withholding information that would really help women," she told Motto. "It hurts too much to keep it in, and that's why I'm not keeping it in now."
Heatherton is not the first model to have departed from Victoria's Secret on a sour note. In November, Jourdan Dunn called the brand "BS" in a now-deleted tweet after it was announced that she wouldn't be participating in the 2015 Victoria's Secret Fashion Show. Before Dunn, Karlie Kloss and Doutzen Kroes left the company to pursue other opportunities (though some speculate it was because of money issues). 
We wouldn't be surprised if other models have faced similar issues under the Victoria's Secret umbrella, thanks to company's famously rigid standards. Since the start of the fashion show in 1995, not one plus-size model has walked the runway; in fact, there's been an increasing emphasis on how fit the show's runway models are.
The exact body requirements of what it takes to be a Victoria's Secret model are under lock and key, but with all of the ridiculous diet tips we've read from the Angels, along with Heatherton's comments, we wouldn't be shocked if other models follow suit and depart the Victoria's Secret cult.
h/t Elle