La Cocina Is Working to Ensure Women of Color Can Succeed in the Restaurant Industry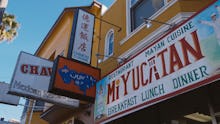 Visions of pristine coffee shops, hip arts spaces and other local hot spots might come to mind when the subject of gentrification comes up, but the results of gentrification extend beyond what often appears on the surface. 
The term often conjures images of economically devastated communities of color transformed into livable neighborhoods ripe for business and housing investment. But the erasure of the cultures of people — including traditional cuisines that characterize a neighborhood or the spaces where locals can produce and sell their food — can also be consequences of gentrification. La Cocina, a San Francisco-based nonprofit, was founded to reverse this trend.
La Cocina is a kitchen incubator founded in 2005 with the purpose of helping its members — mostly low-income women of color and those from immigrant communities — develop food businesses. The incubator ensures the traditional foods of members are available within the broader food market and within communities impacted by changing racial, ethnic and class demographics, like the Mission District in San Francisco. 
The organization's work is about helping its members gain entrance into the food enterprise. For instance, chefs rent kitchen facilities for $11 an hour, which is a third of the average market cost, as Caleb Zigas, La Cocina's executive director, revealed during our conversation. 
La Cocina is attempting to correct what Restaurant Opportunities Center United named in one of its reports on racial disparity as "occupational segregation" — or the various forms of inequity based on gender, race and ethnicity present in the restaurant industry. 
In this episode of The Movement, I report from San Francisco, where I was on-hand to check out La Cocina's work. While there I spoke with La Cocina members, Reem Assil and Isabel Caudillo. Assil hails from a Palestinian-Syrian family in the Northeast U.S. and Caudillo immigrated to the U.S. from Mexico City. 
Assil now runs a food stand in the Mission District where she sells traditional Arab dishes and Caudillo will soon open a Mexican restaurant. Both are ensuring their traditional foods are available in a neighborhood enduring rapid demographic shifts and within a market that may not be easily accessed by those without supports like those provided by La Cocina. As hardworking as Assil and Caudillo are, they make their work look easy. 
Check out the second episode of this season of The Movement below.