SheaMoisture Wants to #BreakTheWalls of Beauty Aisle Segregation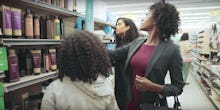 "Frustrated" and "secluded" are just two words that the women in SheaMoisture's new campaign video use to describe how they feel about shopping for beauty products. While white women are offered an endless supply of items in the beauty aisle, women of color are often directed to a separate "ethnic" section.
In order to encourage an end to this, beauty brand SheaMoisture has launched a national call to action. Titled #BreakTheWalls, the 60-second short film and 30-second television ads are aimed at making advancements toward beauty diversity. 
"This is a systematic issue that has gone on for a very long time without anyone really having a platform or the engagement to help bring a change," Richelieu Dennis, SheaMoisture's CEO, said over the phone. "There were beauty expectations set at a time when society as a whole did not think of multiculturalism and diversity. We are here to say 'Hey, look, we are all beautiful.' While we all might not look the same that doesn't mean that one of us is any less beautiful than the other." 
Read more: These Customizable Dolls Are Putting the Power to Define Beauty in Kids' Hands
"The #BreakTheWalls concept is important and long overdue," Patrice Grell Yursik, the creator and blogger behind Afrobella, said in an email. "The commercial truly captured a universal experience for women of color with specific hair and beauty needs — we have been segregated and overlooked as consumers for far too long and we deserve better from the modern day marketplace" 
The near unanimous praise from Twitter users suggests that many have experienced similar issues to the ones addressed in the video.
The video serves to highlight an even bigger issue than the placement of beauty items in the supermarket. Many cosmetic giants do not sell items meant for a wide range of skin tones, while others fail to address natural hair or common issues women of color face, such as hyper-pigmentation, a condition in which dark patches appear on the skin. 
Although some have taken steps to address these problems, such as Essence releasing a curated beauty box in September 2015, the progress has been slow. Further, as Dennis noted, just because a brand puts a woman of color on its packaging doesn't mean the product will actually work for her. 
"The end goal is for us to take a hard look at beauty as a society," Dennis said. "How we think about it, how we drive it and how we consume it. [We need to] take steps to make sure we are including all people, and accentuating the beauty in all of us. This is a dialogue that we will continue to build upon." 
Watch the video below: