Rihanna Sent 3 Powerful Messages of Love to Black Girls Everywhere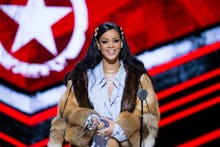 Rihanna may be in the middle of her Anti World Tour, but she's still a hero for countless black girls.
That much was obvious at the annual BET Black Girls Rock! ceremony in Newark, New Jersey, that aired on Tuesday night. She accepted the rock star award and used the stage as an opportunity to empower fans.
Be yourself.
"The minute you learn to love yourself, you would not want to be anyone else," Rihanna said, according to Refinery29.
It's the biggest battle — and the easiest.
"Role model is not the title they like to give me, but that's why tonight is so important to me, because I think I can inspire a lot of young women to be themselves," she said, Refinery29 reported. "And that is half the battle. That's the easiest thing to be."
Black girls are magic.
"All girls rock," she said, Refinery29 reported. "Black girls... we just on another level."
Bravo, Rihanna!
h/t Refinery 29