Arizona's Prescott College Just Made It Easier for Undocumented Students to Earn Degrees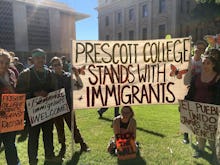 Arizona doesn't usually make headlines for being hospitable to undocumented immigrants, but that isn't the case at Prescott College, a small liberal arts school which is about a two-hour drive from Phoenix.
On Tuesday, the college announced its Freedom Education Fund, a scholarship program for undocumented students. The fund is supported by a $30 fee charged to the college's on-campus students, though individuals can request an exception, and will take effect during the 2016-2017 school year. The school is the first college in the state to implement such a fee, and one of the first in the country to do so.
Read more: Wanna See Donald Trump's America? Look at Arizona
"Within the current political landscape of Arizona it is critical that Prescott College shows our commitment to education as a human right," Miriel Manning, Freedom Education Fund's founder and a student at the school who's senior project planted the idea school-wide, said in a statement. "We were inspired by courageous leadership and organizing across the country."
The school's president, John Flicker, said that the scholarship reinforces the school's values. "I am proud that our students take on the role of scholar activists," he said in the statement. "Their passion around this issue really motivated our part to make up the difference between what the fee will provide for and the full cost to attend one of our programs."
The $30 student fee will net approximately $15,000 annually, and the first full ride scholarship will be available in the fall of 2016.
But not everyone is on board. "It is beyond absurd that this college is going to force all the students to subsidize the education of a student who is in the country illegally," Jessica Vaughn, director of policy studies for the right-leaning Center for Immigration Studies, said in an interview with Fox News. "It's a shame these students and faculty don't have the same drive to help some of their fellow citizens who can't afford college and who are forced to compete with illegal workers for job opportunities."
However, students at Prescott are supportive of the idea.
"I think it's great," Ankur Singh, a 21-year-old who's double majoring in international studies and elementary education, said in a phone call on Thursday. "For students who aren't undocumented, we have the privilege of receiving financial aid because we can apply for loans, but undocumented students don't have access to that."
Singh continued, "We have a responsibility to use the space we have within the institution for students who aren't able to be there because of their immigration status."
The United States is home to roughly 11 million undocumented people of all ages, roughly 65,000 of whom graduate from high schools every year. Only a fraction of those graduates enroll in colleges — figures put them at between 7,000-13,000 students annually. Obtaining financial aid is one of the biggest obstacles facing undocumented students who do want to attend college, since most public and private scholarships are only available to students with U.S. citizenship. That's spawned an entire generation of so-called "DREAMers" — undocumented students who dream of attending college and push for local and national legislation to help make life easier for immigrant youth in the United States.
For Flicker, Prescott's president, that reality is more pressing than anything criticism. "We're committed to broaden access to higher education for a diverse group of students and mobilize our resources toward social justice."
April 7, 2016, 11:45 a.m.: This story has been updated.