Ted Cruz Cancels Event at Bronx High School After Students Plan Walkout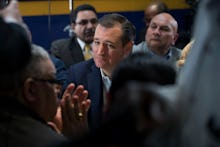 Republican presidential hopeful Ted Cruz didn't get a warm reception when he visited the Bronx, New York, this week.
The Texas senator was slated to visit Bronx Lighthouse College Preparatory Academy, but the appearance was abruptly canceled after the campaign got wind that the school's students planned a walk-out to protest Cruz's visit.
Destiny Domeneck, 16, summed up the students' reactions in one amazing quote to the New York Daily News: 
"Most of us are immigrants or come from immigrant backgrounds," she said. "Ted Cruz goes against everything our school stands for."
Don't mess with the Big Apple.