Duke Students Protest VP Tallman Trask for Calling a Black Worker a "Stupid N*gger"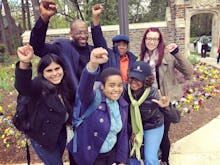 It's been nearly a week since nine students occupied an administration building at Duke University, but they're promising to stay put until an administrator is fired for allegedly calling a black worker on campus a "stupid Nigger" after hitting her with his car.
The incident, which allegedly happened in August 2014, was first reported in February by Amrith Ramkumar and Rachel Chason, reporters for the Duke Chronicle, Duke's student newspaper. According to the Chronicle, Tallman Trask, who is the school's executive vice president, is alleged to have hit a school parking attendant named Shelvia Underwood with his car before a Duke football game. After driving off, Trask reportedly called Underwood a "stupid Nigger." After Underwood filed a report with the school's police department, Trask sent her a note to apologize. 
"I very much regret the incident before the Elon football game," Trask wrote in the note, which was obtained by the Chronicle. "I should have been more patient and I apologize."
Days later, after a student-led occupation began, Trask issued another apology — that "while the details of what happened are a matter of disagreement" he recognized that his conduct "fell short of civility and respectful conduct each member of this community owes to every other."
But the apology was too little, too late. In fact, university workers allege it was one of several instances of discrimination they've long faced at Duke.
"This isn't isolated, it's systemic," one worker told Mic during a phone interview about the incident. "It's an open secret at Duke that African-American, Latino and female workers have always been treated in a discriminatory manner." The worker wished to remain anonymous out of concern for their job security.
On April 1, nine students at the school began a sit-in at one of the administration buildings on campus. They have promised to stay put until the university meets its seven listed demands, which include Trask's immediate termination, along with the terminations of two other Parking and Transportation Services officials. 
Furthermore, the students have also demanded that Trask publicly apologize to Underwood, pay her legal and medical bills and hire an outside agency to investigate claims of unlawful termination by more than a dozen black workers who've been terminated or forced to leave the parking and transportation department. Finally, the students demand the university raise its minimum wage for workers to $15 an hour, which they say "strengthens their ability to meet their basic needs with dignity."
Duke students and their supporters have been using the hashtag #DismantleDukePlantation on social media to voice their outrage.
"The car accident was just kind of the top of the iceberg," said Danielle Purifoy, a 31-year-old Duke doctoral candidate who has been organizing the protest. "We wanted to utilize this incident to highlight not just the egregious nature of the incident itself but the larger pattern of discrimination aimed at workers of parking and transit at Duke."